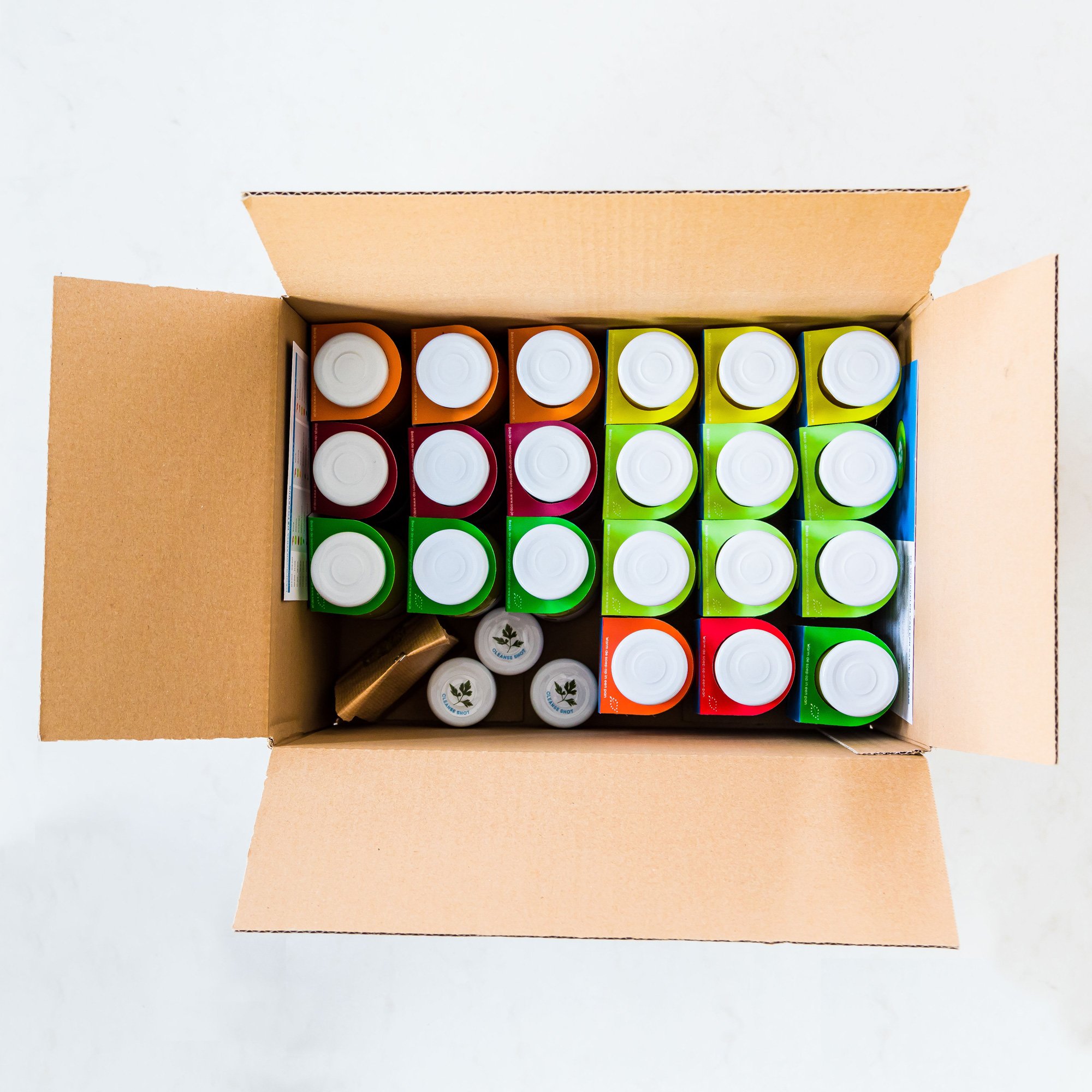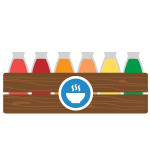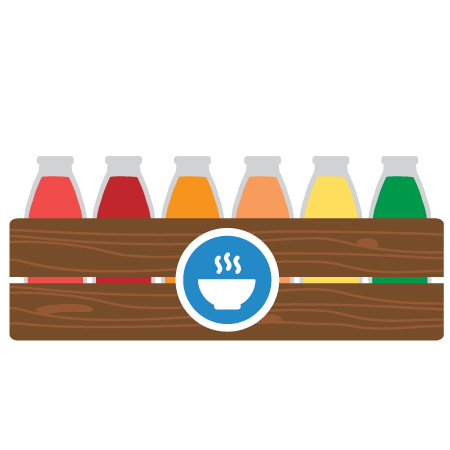 3 day soup cleanse
Reset your eating pattern!
1x

Programma Soepkuur

1x

Detox Digitale Handleiding & Menu
12 soups | 3 bouillon | 3 shots | tea
Relax your body for three days with healthy soups, immunity shots and relaxation teas. Our soup cure is a mild and pleasant cure. Perfect as a way in between, when a more intensive juice cure does not suit you or does not suit you. The cure is easy to follow, even if you have to work or want to continue exercising. It is an ideal reset of your diet.
BENEFITS OF A 3 DAY SOUP CLEANSE
Perhaps you doubt whether a soup cure is right for you. Can a 3-day soup cure be combined with your daily life and activities? Does it provide you with enough nutrients? Are there also disadvantages? Below we list the advantages and possible disadvantages of a soup cure for you.
Lots of healthy nutrients
The soups you eat during the soup cure are full of fresh organic vegetables. So you get a wide variety of healthy nutrients from vegetables throughout the day. Each type of vegetable excels in its own nutrients.
Letting go of unhealthy habits
The soup cure is an ideal starting point to let go of unhealthy habits and to pick up new healthy habits. By consciously working on your daily diet for 3 days, you get to know your own body better and you can then make a fresh start.
Warm your body
During the soup cure you warm your body from the inside. In addition, your body can also absorb some nutrients from vegetables better after heating.
Accessible
The soup cure is a mild and pleasant cure that you can easily combine with your normal daily activities. You can continue to work and exercise during this soup cure. Also, no intensive preparation is necessary, as is the case with some cures.
Contents of our 3 day Juice cleanse:
3 zucchini soups (3×470 ml)
3 tomato soups (3×470 ml)
3 cauliflower soups (3×470 ml)
3 pumpkin soups (3×470 ml)
3 vegetable broth (3×470 ml)
3 immunity shot (3×50 ml)
A detailed explanation of the preparation
Nutrition facts
Nutritional value per 1 day juice cleanse
Energy

907 Kcal

Protein

25 gr

Fat

51 gr

Saturated Fat

26 gr

Carbohydrates

73 gr

Natural Sugars

40 gr

Salt

12.4 gr

Food fibres

24 gr
Vitamins & minerals
Shown as a percentage of the reference intake (RI).
RI of an average adult is 8400 kJ / 2000 kcal per day.

Potassium

3048 mg

Vitamin A

1435 μg

Vitamin B1

0.80 mg

Vitamin B2

0.53 mg

Vitamin B3

7.0 mg

Vitamin B5

3.2 mg

Vitamin B6

1.1 mg

Folic acid

414 μg

Vitamin C

313 mg

Vitamin E

16 μg

Vitamin K

277 μg

Calcium

385 mg

Phosphorus

554 mg

Iron

9.2 mg

Iodine

121 μg

Copper

1.5 mg

Magnesium

247 mg

Manganese

4.4 mg

Zinc

4.8 mg

K
Potassium
> 152% of RDA
Good for blood pressure, supports normal muscle function and plays an important role in the functioning of the nerves.
A
Vitamin A
> 179% of RDA
Good for vision, and contributes to normal iron metabolism, helps care for the skin from the inside out and has a positive influence on the immune system.
B1
Vitamin B1
> 73% of RDA
Good for the heart, memory and concentration. Has a positive influence on the functioning of the nervous system.
B2
Vitamin B2
> 38% of RDA
Promotes energy metabolism, protects cells and helps reduce fatigue and tiredness.
B3
Vitamin B3
> 44% of RDA
Activates the natural energy in the body. Is important for healthy skin and good for memory. Helps reduce tiredness and fatigue.


B5
Vitamin B5
> 53% of RDA
Supports energy metabolism, helps to reduce fatigue and helps with tension.
B6
Vitamin B6
> 79% of RDA
Is important for the formation of red blood cells, promotes energy metabolism, contributes to the regulation of hormonal activity and helps reduce fatigue.
Fa
Folic acid
> 207% of RDA
Helps the body create and maintain new cells. Folic acid supports, among other things, the production of red and white blood cells.
C
Vitamin C
> 391% of RDA
Supports your immune system and is an antioxidant, which protects against free radicals. Contributes to the formation of collagen, which is important for healthy blood vessels and healthy skin. Contributes to a clear mind and the proper functioning of the nerves.
E
Vitamin E
> 133% of RDA
Is an antioxidant. Helps protect body cells against damage from pollution and sunlight, among other things.
K
Vitamin K
> 369% of RDA
Helps in normal blood clotting. Supports the absorption of minerals into the bone tissue and contributes to the maintenance and maintenance of strong bones.
Ca
Calcium
> 48% of RDA
Supports blood clotting. Helps to keep the skeleton and teeth strong and is good for the muscles. Supports the energy level.
P
Phosphorus
> 79% of RDA
Contributes to the normal functioning of cell membranes and the maintenance of strong bones. Promotes energy metabolism.
Fe
Iron
> 66% of RDA
Supports the normal formation of red blood cells and hemoglobin, contributes to the process of cell renewal, aids the immune system, has a beneficial effect on normal oxygen transport in the body and keeps the mind clear.
I
Iodine
> 81% of RDA
Contributes to normal thyroid hormone production and thyroid function.
Cu
Copper
> 150% of RDA
Supports iron transport in the body, is good for the nervous and immune systems and helps protect body cells.
Mg
Magnesium
> 66% of RDA
Helps maintain strong bones, contributes to a good electrolyte balance and is good for concentration.
Mn
Manganese
> 220% of RDA
Important for the normal formation of connective tissue in cartilage and bones, is good for the skeleton and works to protect against free radicals.
Zn
Zinc
> 48% of RDA
Is conducive to concentration, good for hair and nails and helps to keep the skin healthy.
3 day soup cleanse reviews
Milde smakelijke detoxkuur

Goed vol te houden kuur, mijn doel was om mezelf even te resetten, waarbij ik wel gewoon door kon werken. Heb wel hoofdpijn ervaren op de eerste dag, maar na 3 dagen voel ik energieker dan voorheen (en dat was mijn bedoeling ook). De soepjes zijn heerlijk! Verrassend was de bloemkoolsoep, die werd mijn favoriet.

Kitty from Echternerbrug on 15 April 2023