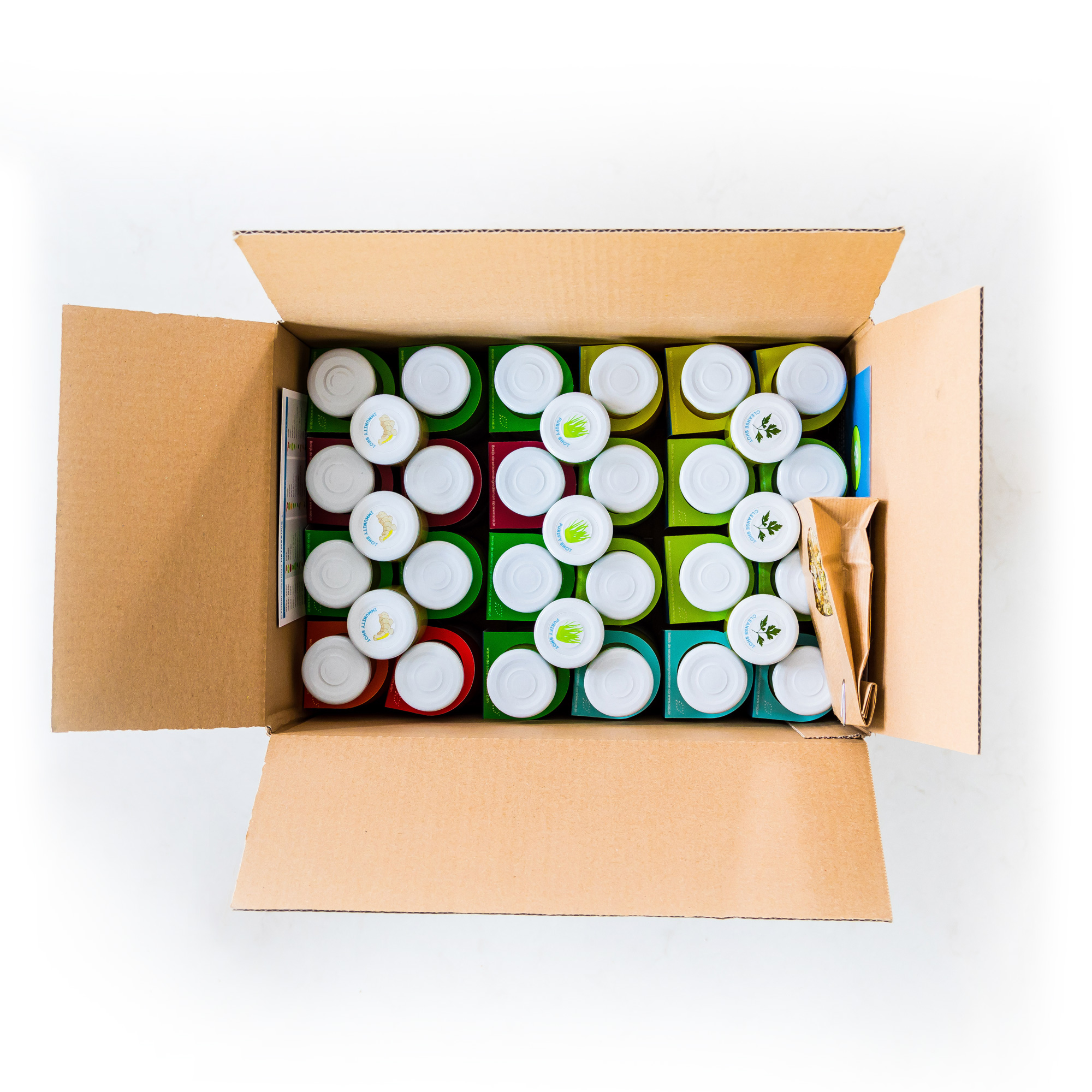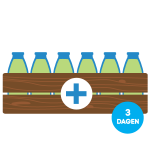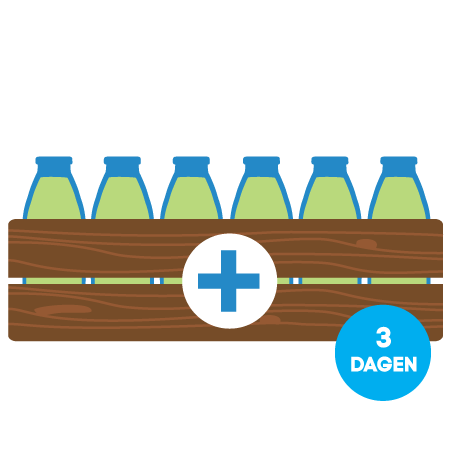 3 day juice fast intense
Over 11 kilos of vegetables!
21 juices | 9 shots | 3 soups | tea
This complete super green juice fast INTENSE for 3 days has been specially developed for people who need more vegetable juices and also have more experience with a juice fast. The juice fast for 3 days also contains extra concentrated shots and vegetable juices in addition to the 100% organic and fresh vegetable juices from our standard cleanse. The juice fast intense provides you with a large amount of vitamins, minerals and antioxidants. Do you already have experience with our detox fast and do you want something more powerful? Then this intensive juice fast with stronger flavors is perfect for you.
BENEFITS OF THE 3 DAY JUICE FAST
Support the cleansing effect of your liver*
The main goal of a 3-day juice fast is to support your body to continue to perform its natural functions as well as possible. You can see a juice fast as part of a healthy and balanced life. Just like you need to regularly clean your car's filters to keep them performing as well as possible, you can also give the 'filters' of your body a cleaning.
Your organs play an important role in protecting your body from harmful substances. This extra intensive juice fast with extra green juices, soups and concentrated shots can give your body a helping hand. For example, the Detox juice contains choline, which supports the cleansing effect of your liver*. The presence of calcium in our juices helps your digestion run smoothly. In addition, the antioxidants (including vitamin C and manganese) in the juices contribute to the protection of your body cells against harmful external influences, such as air pollution and UV radiation.
Another, just as important, goal of a juice fast is to temporarily stop unhealthy habits such as: smoking, unhealthy food, drinking alcohol and coffee and replace them with enough rest and healthy food to continue to feel optimal. Ideally, you should start phasing out this before the juice fast. As a result, your body does not have to process any unhealthy substances for at least 3 days and is therefore less taxed. You can see a juice fast as a helping hand for your body.
Benefits of  fasting 3 days
Juice fasting is a proven method to provide your body with extra support. You give your body some temporary rest. In addition, you get a lot of healthy nutrients with our juice fast, so that you support your health. During this juice fast you get more than 11 kilos of raw, organic vegetables, fruit, herbs, spices and seaweed in 3 days! The best part is that the nutrients can be absorbed immediately once the ingredients have been pressed into vegetable juice with the slow juicer. This detox juice fast not only gives your body rest, but also provides a new supply of healthy nutrients. Taking our juice fast can contribute to, among other things:
Support of your resistance by, among other things, vitamin C, zinc and folic acid
Support of your energy level by, among other things, vitamin B6, copper and iron
Normal functioning of your digestive system due to calcium
A clear mind through folic acid and vitamin B1
Maintain healthy skin by, among other things, vitamin A, iodine and zinc
Maintain strong bones and muscles by, among other things, calcium and magnesium
Protection against oxidative damage by, among others, vitamin C, vitamin E and manganese
The regulation of your hormonal activity by vitamin B6 and zinc
Normal hormone production by the thyroid gland due to iodine
Mental resilience, concentration and your memory function due to, among other things, vitamin B6, magnesium and folic acid
Maintaining good blood pressure with potassium
Read more about the health benefits of our Juice fast here.
3 day juice fasting and a healthy lifestyle
Do you want to take extra good care of your body and offer your immune system optimal support? Do you want to change your lifestyle and eat healthier? Then our 3-day juice fast is a very good start! You can also use our juice fast for 3 days during weight loss to support your health.
Following a 3-day juice fast is the ideal way to learn new healthy habits. By letting go of your old habits, it becomes easier to make a new start. Many people experience that it is also easier to maintain a healthy lifestyle after the juice fast. If you also decide to order our juice fast, you will receive a digital detox manual and delicious detox recipes by email that will help you with that.
Content of the intensive, 3 day Juice fast:
21 organic Slowjuice vegetable juices (240 ml)
9 organic Slowjuice detoxifying shots (50 ml)
3 organic vegetable soups (470 ml)
Organic herbal tea
A detailed explanation of the preparation
A healthy menu for the pre- and aftertox
Nutrition facts
Nutritional value per 1 day juice fast intense
Energy

750 Kcal

Protein

30 gr

Fat

8.2 gr

Saturated Fat

1.2 gr

Carbohydrates

156 gr

Natural Sugars

25.6 gr

Salt

2.9 gr

Food fibres

37 gr
Allergy information
contains celery & carrot
Vitamins & minerals
die rijk vertegenwoordigd zijn

Potassium

7030 mg

Vitamin A

3545 μg

Vitamin B1

2 mg

Vitamin B2

1.7 mg

Vitamin B3

13.2 mg

Vitamin B5

5.6 mg

Vitamin B6

2.4 mg

Folic acid

824 μg

Vitamin C

516 mg

Vitamin E

15 μg

Vitamin K

2271 μg

Calcium

3337 mg

Choline

168 mg

Phosphorus

766 mg

Iron

27 mg

Iodine

210 μg

Copper

2.7 mg

Magnesium

442 mg

Manganese

6.4 mg

Zinc

14 mg

K
Potassium
> 352% of RDA
Good for blood pressure, supports normal muscle function and plays an important role in the functioning of the nerves.
A
Vitamin A
> 443% of RDA
Good for vision, and contributes to normal iron metabolism, helps care for the skin from the inside out and has a positive influence on the immune system.
B1
Vitamin B1
> 182% of RDA
Good for the heart, memory and concentration. Has a positive influence on the functioning of the nervous system.
B2
Vitamin B2
> 121% of RDA
Promotes energy metabolism, protects cells and helps reduce fatigue and tiredness.
B3
Vitamin B3
> 83% of RDA
Activates the natural energy in the body. Is important for healthy skin and good for memory. Helps reduce tiredness and fatigue.


B5
Vitamin B5
> 93% of RDA
Supports energy metabolism, helps to reduce fatigue and helps with tension.
B6
Vitamin B6
> 171% of RDA
Is important for the formation of red blood cells, promotes energy metabolism, contributes to the regulation of hormonal activity and helps reduce fatigue.
Fa
Folic acid
> 412% of RDA
Helps the body create and maintain new cells. Folic acid supports, among other things, the production of red and white blood cells.
C
Vitamin C
> 645% of RDA
Supports your immune system and is an antioxidant, which protects against free radicals. Contributes to the formation of collagen, which is important for healthy blood vessels and healthy skin. Contributes to a clear mind and the proper functioning of the nerves.
E
Vitamin E
> 125% of RDA
Is an antioxidant. Helps protect body cells against damage from pollution and sunlight, among other things.
K
Vitamin K
> 3028% of RDA
Helps in normal blood clotting. Supports the absorption of minerals into the bone tissue and contributes to the maintenance and maintenance of strong bones.
Ca
Calcium
> 417% of RDA
Supports blood clotting. Helps to keep the skeleton and teeth strong and is good for the muscles. Supports the energy level.
Ch
Choline
> 204% of RDA
Supports the cleansing effect of the liver. Contributes to the production and breakdown of homocysteine. Helps maintain the structure of cell membranes.
P
Phosphorus
> 109% of RDA
Contributes to the normal functioning of cell membranes and the maintenance of strong bones. Promotes energy metabolism.
Fe
Iron
> 193% of RDA
Supports the normal formation of red blood cells and hemoglobin, contributes to the process of cell renewal, aids the immune system, has a beneficial effect on normal oxygen transport in the body and keeps the mind clear.
I
Iodine
> 140% of RDA
Contributes to normal thyroid hormone production and thyroid function.
Cu
Copper
> 270% of RDA
Supports iron transport in the body, is good for the nervous and immune systems and helps protect body cells.
Mg
Magnesium
> 118% of RDA
Helps maintain strong bones, contributes to a good electrolyte balance and is good for concentration.
Mn
Manganese
> 320% of RDA
Important for the normal formation of connective tissue in cartilage and bones, is good for the skeleton and works to protect against free radicals.
Zn
Zinc
> 140% of RDA
Is conducive to concentration, good for hair and nails and helps to keep the skin healthy.
3 day juice fast intense reviews
Voel me herboren

3 dagen geen koffie drinken, eten en alleen maar sap drinken was zeker een uitdaging maar het voelt achteraf wel enorm goed. Overigens heb je na 2 dagen al een stuk minder last van de ontwenningsverschijnselen. Dus misschien volgende keer 5 dagen? Er komt sowieso een volgende keer 😀

Klaas from AMSTERDAM on 14 July 2021

Heerlijke sapjes!

Super fijne service van begin tot het einde. Het begint met hele duidelijke informatie op de website. Ik heb gekozen voor een 3-daagde sapkuur plus. Je wordt keurig op de hoogte gehouden van je bestelling en vooraf krijg je nog aanvullende informatie over pretox en aftertox met lekkere recepten. Veel makkelijker kan het niet gemaakt worden! Flesjes worden netjes in een doos voorzien van labels geleverd. Ik ga dit zeker nog een keer doen!

Melina from Almere on 8 July 2021

Krachtig

Pittig, maar voel me weer helemaal fit!

Pieter from Rotterdam on 8 July 2021

Ervaring +

Na de 5 daagse en 7 daagse detox kuur te hebben gedaan, dacht ik ik wil er nog meer uithalen. Ik heb de 3 daagse + kuur gedaan. de sapjes zijn net iets anders maar je voelt je zo schoon van binnen. De volgende keer doe ik de 5 daagse!

Fender from Assen on 1 July 2021