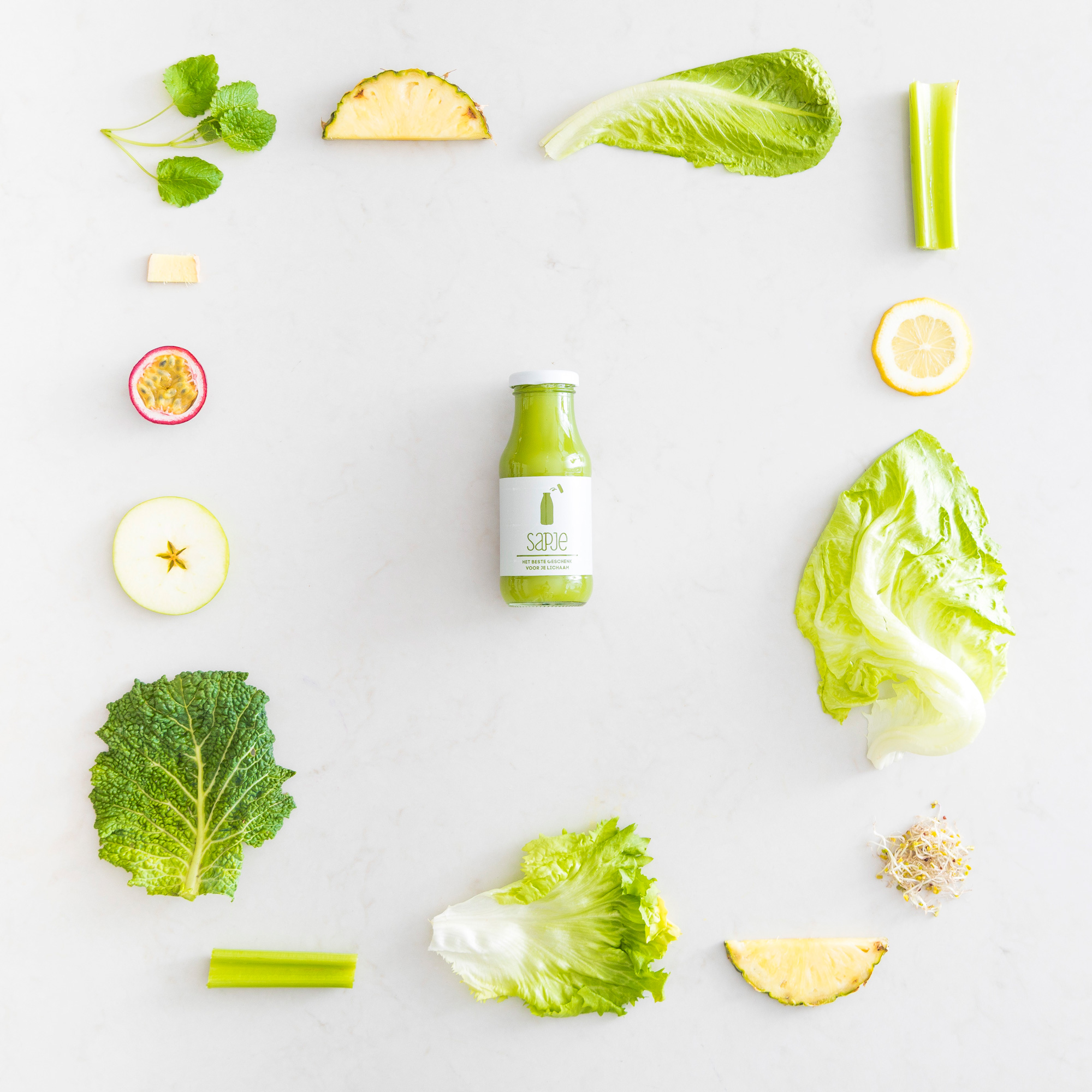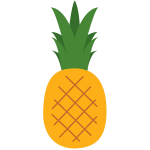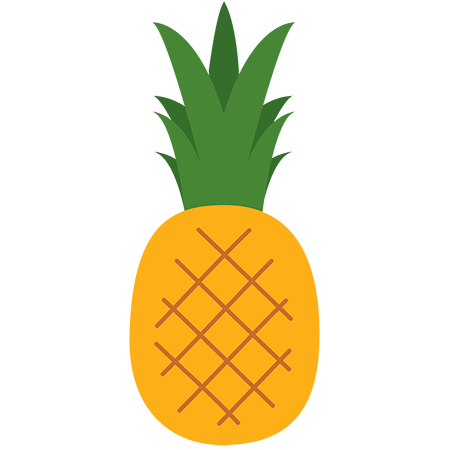 Reboot
by Joe Cross the Juice Master
Celery
Pineapple
Roman lettuce
Endive
Iceberg lettuce
Green cabbage
Granny Smith apple
Lemon
Passion fruit
Ginger
Lemon balm
Broccoli sprouts
This Reboot juice has been specially developed for us by Joe Cross the Juice master. It is bursting with vitamins, minerals and antioxidants. The taste of this green vegetable juice based on, among other things, pineapple and celery juice is fresh, green and invigorating.
Joe Cross became known for the award-winning documentary FAT, SICK & NEARLY DEAD, which has been viewed by more than 30 million people. This shows how Joe Cross only drinks slow juice vegetable juice for 2 months and is looking for a healthier lifestyle. During this period he lost 50 kilos overweight and his health also improved considerably. This documentary was an important source of inspiration when founding Sapje. We were therefore very honored that Joe Cross was willing to develop the recipe for this Reboot green vegetable juice especially for us. Reboot contains his favorite ingredients, such as celery, pineapple, green leafy vegetables, lemon balm and broccoli sprouts.
WHAT MAKES JOE CROSS'S REBOOT JUICE HEALTHY?
Joe Cross's Reboot juice is packed with vitamins, minerals and antioxidants that are important for good health. For example, it is rich in vitamin C (113% RI) that supports your immune system and helps protect your body against free radicals. It also contains 110% of the reference intake of manganese, which is also a strong antioxidant and good for your skeleton. The generous amount of vitamin K (127% RI) contributes to the maintenance of strong bones and supports blood clotting. Vitamin A is also well represented in this super green vegetable juice and is good for your eyesight, skin and resistance. In addition, there are various nutrients in this organic slow juice that benefit your mental balance. The vitamins B1 and B6 are beneficial for your mood and they contribute to good concentration and memory function.
THE FLAVOR OF REBOOT JUICE BY JOE CROSS
The first thing you probably notice about Joe Cross's Reboot juice is the bright green color. That's not surprising, because the recipe for this green vegetable juice includes celery, Romaine lettuce, endive and green cabbage. Together with the broccoli sprouts, these vegetables provide a somewhat grassy smell and slightly bitter taste. Pineapple, passion fruit, lemon balm, Granny Smith and lemon with zest balance the whole with sweet and sour aromas. The ginger adds a warm undertone, making this super healthy Reboot juice from Joe Cross a complex taste experience that bursts with energy. "Our juices are an excellent addition as part of a varied, balanced diet and a healthy lifestyle."
Nutrition facts
Nutritional value per 100ml
Energy

55 kcal / 230 kj

Protein

1,5 gr

Fat

<0,3 gr

Saturated Fat

0 gr

Carbohydrates

9,8 gr

Natural Sugars

4,7 gr

Salt

<0.1 gr

Food fibres

2,5 gr
Allergy information
contains celery
Vitamins & minerals
Shown as a percentage of the reference intake (RI).
RI of an average adult is 8400 kJ / 2000 kcal per day.

Potassium

710 mg

Vitamin A

257 μg

Vitamin B1

0.23 mg

Vitamin B2

0.24 mg

Vitamin B3

1.3 mg

Vitamin B5

0.8 mg

Vitamin B6

0.28 mg

Folic acid

42 μg

Vitamin C

90 mg

Vitamin E

1.1 μg

Vitamin K

95 μg

Calcium

125 mg

Phosphorus

67 mg

Iron

1.7 mg

Iodine

5 μg

Copper

0.2 mg

Magnesium

46 mg

Manganese

2 mg

Zinc

0.9 mg

K
Potassium
> 36% of RDA
Good for blood pressure, supports normal muscle function and plays an important role in the functioning of the nerves.
A
Vitamin A
> 32% of RDA
Good for vision, and contributes to normal iron metabolism, helps care for the skin from the inside out and has a positive influence on the immune system.
B1
Vitamin B1
> 21% of RDA
Good for the heart, memory and concentration. Has a positive influence on the functioning of the nervous system.
B2
Vitamin B2
> 17% of RDA
Promotes energy metabolism, protects cells and helps reduce fatigue and tiredness.
B3
Vitamin B3
> 8% of RDA
Activates the natural energy in the body. Is important for healthy skin and good for memory. Helps reduce tiredness and fatigue.


B5
Vitamin B5
> 13% of RDA
Supports energy metabolism, helps to reduce fatigue and helps with tension.
B6
Vitamin B6
> 20% of RDA
Is important for the formation of red blood cells, promotes energy metabolism, contributes to the regulation of hormonal activity and helps reduce fatigue.
Fa
Folic acid
> 21% of RDA
Helps the body create and maintain new cells. Folic acid supports, among other things, the production of red and white blood cells.
C
Vitamin C
> 113% of RDA
Supports your immune system and is an antioxidant, which protects against free radicals. Contributes to the formation of collagen, which is important for healthy blood vessels and healthy skin. Contributes to a clear mind and the proper functioning of the nerves.
E
Vitamin E
> 9% of RDA
Is an antioxidant. Helps protect body cells against damage from pollution and sunlight, among other things.
K
Vitamin K
> 127% of RDA
Helps in normal blood clotting. Supports the absorption of minerals into the bone tissue and contributes to the maintenance and maintenance of strong bones.
Ca
Calcium
> 16% of RDA
Supports blood clotting. Helps to keep the skeleton and teeth strong and is good for the muscles. Supports the energy level.
P
Phosphorus
> 10% of RDA
Contributes to the normal functioning of cell membranes and the maintenance of strong bones. Promotes energy metabolism.
Fe
Iron
> 12% of RDA
Supports the normal formation of red blood cells and hemoglobin, contributes to the process of cell renewal, aids the immune system, has a beneficial effect on normal oxygen transport in the body and keeps the mind clear.
I
Iodine
> 3% of RDA
Contributes to normal thyroid hormone production and thyroid function.
Cu
Copper
> 20% of RDA
Supports iron transport in the body, is good for the nervous and immune systems and helps protect body cells.
Mg
Magnesium
> 12% of RDA
Helps maintain strong bones, contributes to a good electrolyte balance and is good for concentration.
Mn
Manganese
> 100% of RDA
Important for the normal formation of connective tissue in cartilage and bones, is good for the skeleton and works to protect against free radicals.
Zn
Zinc
> 9% of RDA
Is conducive to concentration, good for hair and nails and helps to keep the skin healthy.
Reboot reviews
Wat een mooie smaak

Met dit sapje kom ik gemakkelijke aan mijn dagelijkse groente.

Loes from Bussum on 8 July 2021