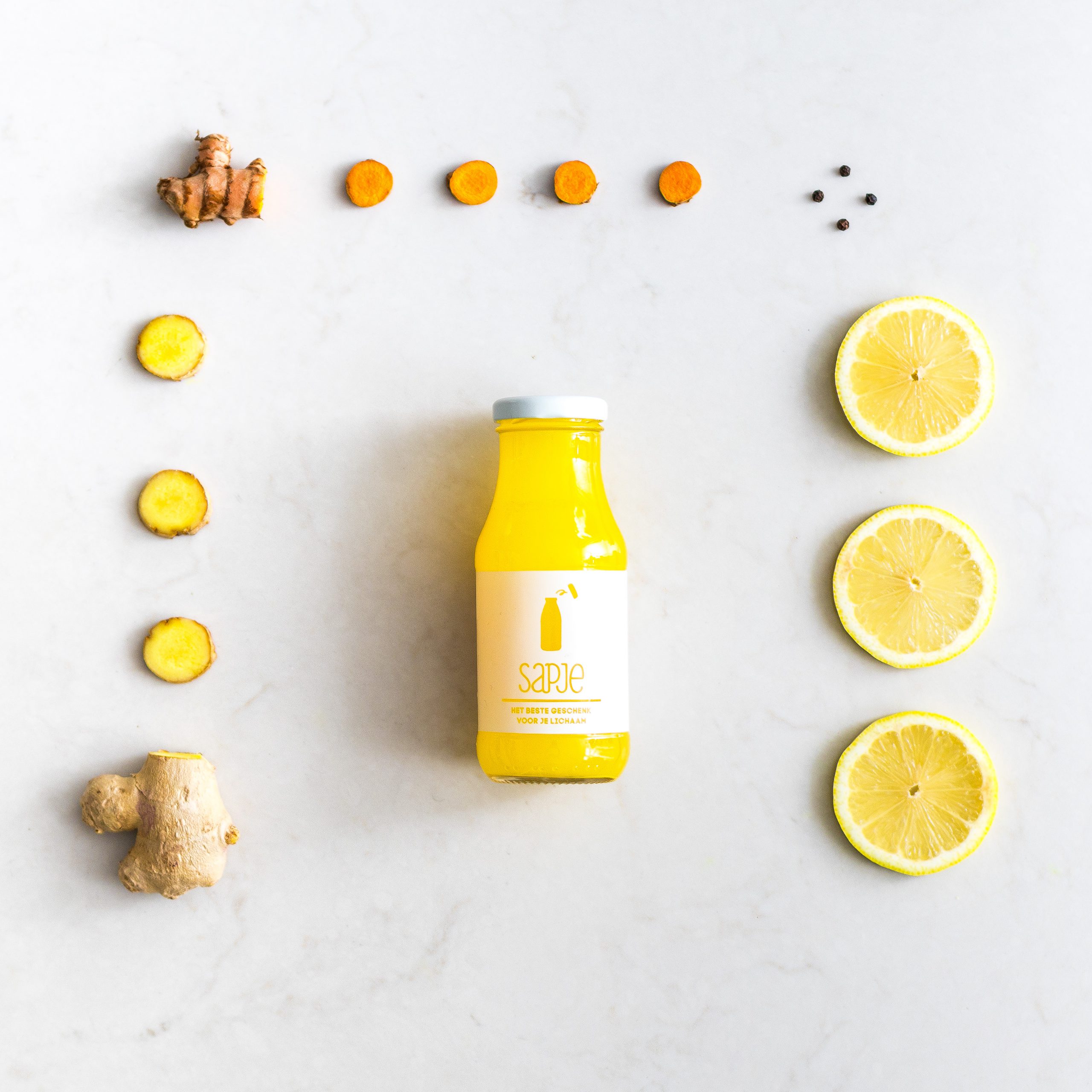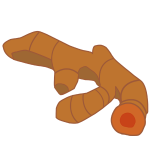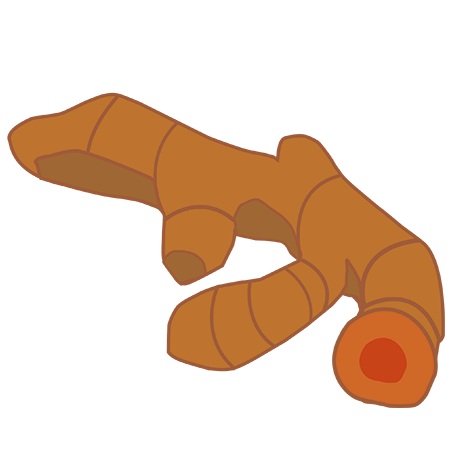 Kick
Helps with fatigue*
Lemon
Turmeric
Ginger
Black pepper
Kickstart your day with this tart turmeric juice. The KICK juice contains fresh turmeric with black pepper, ginger and lemon. Our turmeric slow juice juice is rich in vitamin C, a powerful antioxidant. This vitamin supports your immune system, protects against free radicals, is good for your memory and contributes to extra energy in case of fatigue*!
You will have noticed that turmeric or turmeric fits well in a healthy diet. Many a nutrition expert urges us to regularly add this brightly colored carrot to our diet. Fresh turmeric is better than powdered turmeric because the pure, unprocessed turmeric contains most of the healthy nutrients. Making tasty organic turmeric juice without unnatural additives seemed so logical to us. By pressing turmeric juice with the slow juicer and then immediately freezing it, we retain as many healthy nutrients as possible. That is why you can buy turmeric juice of the best organic quality at Sapje. Our turmeric drink with turmeric and black pepper, ginger and lemon is well absorbed by your body and tastes pretty good too!
WHY IS TURMERIC JUICE HEALTHY?
Drinking turmeric juice is a great way to start your day. Our fresh, 100% organic turmeric juice contains a lot of vitamin C. This antioxidant helps protect your body against free radicals, supports your immune system and contributes to extra energy in case of fatigue. Both turmeric and ginger can often be found in healthy juices. The most well-known compound in turmeric is curcumin. Black pepper has been added to this juice especially to promote the absorption of this substance. Ginger is especially known for its high gingerol content. This is the substance to which the ginger root also owes its sharp taste. The lemon gives this juice an extra invigorating twist. Lemon, turmeric, ginger and black pepper combine to create a fresh yet hearty drink that will get you going. Due to the high content of vitamin C, this powerful juice contributes to a clear mind and can help reduce a lack of energy.
THE FLAVOUR OF TURMERIC JUICE
The spicy turmeric juice immediately catches the eye with its deep, yellow color, which comes from the fresh turmeric (turmeric root). We juice this slow juice with the skin and all, just like the ginger and lemon, to optimally preserve the nutrients. As soon as you open the bottle, you immediately smell a fresh citrus scent. The taste of the turmeric juice is initially sour and bitter at the same time. That will definitely wake you up! To soften this intense taste, we added some alkaline water. As a result, the actual kick comes a little later. You can feel it by a sultry feeling in the back of your throat, which slowly starts to heat up your whole body. All in all, you can compare the taste of this turmeric ginger juice with a combination of bitter lemon, tonic and ginger ale. But unlike these soft drinks, our turmeric juice is healthy! "Our juices are an excellent addition as part of a varied, balanced diet and a healthy lifestyle."
Nutrition facts
Nutritional value per 100ml
Energy

17 kcal / kj 71

Protein

0.8 gr

Fat

0.2 gr

Saturated Fat

<0.1 gr

Carbohydrates

2.2 gr

Natural Sugars

1.2 gr

Salt

<0.1 gr

Food fibres

1,2 gr
Allergy information
none
Vitamins & minerals
Shown as a percentage of the reference intake (RI).
RI of an average adult is 8400 kJ / 2000 kcal per day.

Potassium

181 mg

Vitamin A

12 μg

Vitamin B1

0.04 mg

Vitamin B2

0.01 mg

Vitamin B3

0.2 mg

Vitamin B5

0.1 mg

Vitamin B6

0.03 mg

Folic acid

8 μg

Vitamin C

28 mg

Vitamin E

0.6 μg

Vitamin K

0.1 μg

Calcium

33 mg

Phosphorus

7.6 mg

Iron

1 mg

Iodine

1 μg

Copper

0.05 mg

Magnesium

9 mg

Manganese

0.1 mg

Zinc

0.1 mg

K
Potassium
> 9% of RDA
Good for blood pressure, supports normal muscle function and plays an important role in the functioning of the nerves.
A
Vitamin A
> 2% of RDA
Good for vision, and contributes to normal iron metabolism, helps care for the skin from the inside out and has a positive influence on the immune system.
B1
Vitamin B1
> 4% of RDA
Good for the heart, memory and concentration. Has a positive influence on the functioning of the nervous system.
B2
Vitamin B2
> 1% of RDA
Promotes energy metabolism, protects cells and helps reduce fatigue and tiredness.
B3
Vitamin B3
> 1% of RDA
Activates the natural energy in the body. Is important for healthy skin and good for memory. Helps reduce tiredness and fatigue.


B5
Vitamin B5
> 2% of RDA
Supports energy metabolism, helps to reduce fatigue and helps with tension.
B6
Vitamin B6
> 2% of RDA
Is important for the formation of red blood cells, promotes energy metabolism, contributes to the regulation of hormonal activity and helps reduce fatigue.
Fa
Folic acid
> 4% of RDA
Helps the body create and maintain new cells. Folic acid supports, among other things, the production of red and white blood cells.
C
Vitamin C
> 35% of RDA
Supports your immune system and is an antioxidant, which protects against free radicals. Contributes to the formation of collagen, which is important for healthy blood vessels and healthy skin. Contributes to a clear mind and the proper functioning of the nerves.
E
Vitamin E
> 5% of RDA
Is an antioxidant. Helps protect body cells against damage from pollution and sunlight, among other things.
K
Vitamin K
> 0% of RDA
Helps in normal blood clotting. Supports the absorption of minerals into the bone tissue and contributes to the maintenance and maintenance of strong bones.
Ca
Calcium
> 4% of RDA
Supports blood clotting. Helps to keep the skeleton and teeth strong and is good for the muscles. Supports the energy level.
P
Phosphorus
> 1% of RDA
Contributes to the normal functioning of cell membranes and the maintenance of strong bones. Promotes energy metabolism.
Fe
Iron
> 7% of RDA
Supports the normal formation of red blood cells and hemoglobin, contributes to the process of cell renewal, aids the immune system, has a beneficial effect on normal oxygen transport in the body and keeps the mind clear.
I
Iodine
> 1% of RDA
Contributes to normal thyroid hormone production and thyroid function.
Cu
Copper
> 5% of RDA
Supports iron transport in the body, is good for the nervous and immune systems and helps protect body cells.
Mg
Magnesium
> 2% of RDA
Helps maintain strong bones, contributes to a good electrolyte balance and is good for concentration.
Mn
Manganese
> 5% of RDA
Important for the normal formation of connective tissue in cartilage and bones, is good for the skeleton and works to protect against free radicals.
Zn
Zinc
> 1% of RDA
Is conducive to concentration, good for hair and nails and helps to keep the skin healthy.
Kick reviews
Een echte oppepper!

Vergeet koffie, drink dit in de ochtend. Je merkt pas na 3 uur dat je weer wilt gaan zitten. Echt een kickstart van je dag!

Willemien from Uitgeest on 12 July 2021

Mijn ochtendroutine

Ik begin mijn dag scherp en fris als ik dit drankje drink. Mijn adem ruikt er fris van en voel me een stuk gezonder. Het is redelijk zuur dus het is wel eventjes wennen.

Jolande from Groningen on 8 July 2021

Goede oppepper

Ik gebruik hem om mijn dag mee op te starten of in de middag om weer even wakker te worden. Heel lekker!

Carolien from Amersfoort on 8 July 2021

Perfection

Perfecte start van de dag!!

Robert from Rotterdam on 1 July 2021