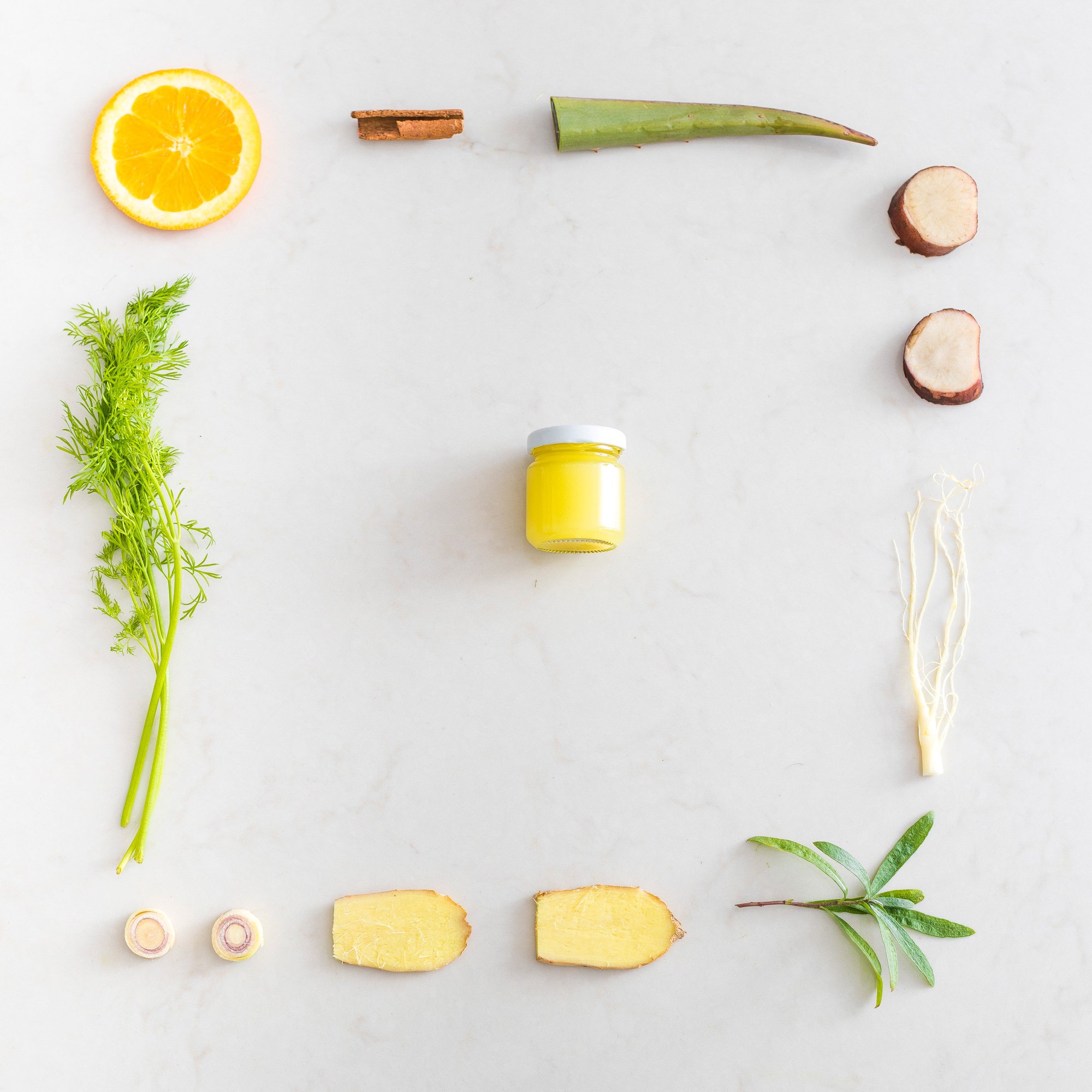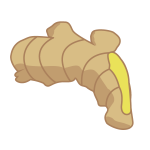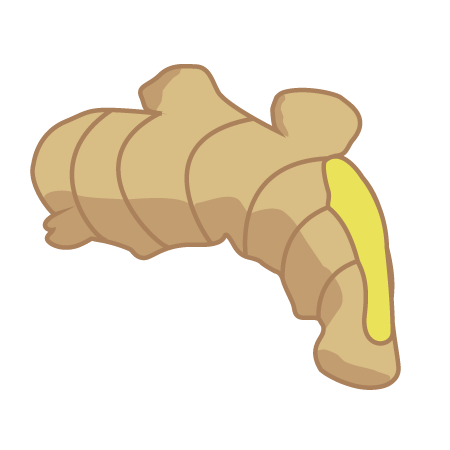 Immunity
Support your immune system with our ginger shot*
Aloë vera
Apple
Cinnamon
Dill
Dragon
Ginger
Lemon
Lemon balm
Orange
White carrot
The basis of this ginger shot is of course fresh ginger from the slow juicer. Thanks to the high content of vitamins A and C, this spicy carrot is a real winner for supporting your immune system*. We enrich this ginger shot with, among other things, lemongrass, cinnamon, ginseng and orange. Together, the ingredients of this ginger shot are a rich source of vitamins, minerals and antioxidants.
This ginger shot is a big powerhouse in a small jar. For example, this ginger shot offers many benefits for maintaining good health. So making a ginger shot with the slow juicer was so logical for us. Since the taste of raw ginger is quite strong, we decided to add extra ingredients to it. These give this shot a stronger effect and a better taste.
WHAT MAKES THIS GINGER SHOT HEALTHY?
This ginger shot may be small, but it's bursting with vitamins, minerals and antioxidants. The ample amounts of vitamin C, vitamin A and copper support your immune system and therefore ensure a good resistance. In addition, vitamin C and the minerals copper and manganese in this powerful shot have an antioxidant function, helping to protect your cells and tissues against external influences. They are also involved in your energy metabolism and support your energy level. Drink this ginger shot every morning on an empty stomach and you won't need coffee anymore! The best-known ingredient in fresh ginger is gingerol. This substance provides the characteristic spicy taste of ginger. The combination of ginger with yacon root, lemongrass, aloe vera, tarragon and dill makes for a powerful shot that can jump start your day.
TASTE OF THE GINGER SHOT
While this ginger shot has many health benefits, the taste can take some getting used to. That's why we wanted to make a ginger shot with ingredients that could soften the sharp taste of fresh ginger. After all, nobody wants to buy a ginger shot that is almost impossible to get rid of. While our ginger shot can still be overwhelming to the taste buds, there's plenty to enjoy too. When opening the ginger shot, fresh citrus scents first meet you that immediately wake you up. The first sip brings the sweetness of orange and cinnamon. Then you get a warm, sharp kick from the ginger and ginseng that lingers in your throat for a while. You feel your whole system getting started and get new energy. Do you also want to start your day healthy? Then ordering our ginger shot is a very good idea! "Our juices are an excellent addition as part of a varied, balanced diet and a healthy lifestyle."
Nutrition facts
Nutritional value per 50ml
Energy

56 kcal / 224 kj

Protein

1.2 gr

Fat

0.6 gr

Saturated Fat

0.2 gr

Carbohydrates

8.6 gr

Natural Sugars

3.6 gr

Salt

<0.02 gr

Food fibres

3.6 gr
Allergy information
none
Vitamins & minerals
Shown as a percentage of the reference intake (RI).
RI of an average adult is 8400 kJ / 2000 kcal per day.

Potassium

306 mg

Vitamin A

197 μg

Vitamin B1

0.05 mg

Vitamin B2

0.03 mg

Vitamin B3

0.4 mg

Vitamin B5

0.2 mg

Vitamin B6

0.07 mg

Folic acid

20 μg

Vitamin C

26 mg

Vitamin E

0.3 μg

Vitamin K

2.8 μg

Calcium

46 mg

Phosphorus

54 mg

Iron

0.7 mg

Iodine

1 μg

Copper

0.3 mg

Magnesium

17 mg

Manganese

1.6 mg

Zinc

0.4 mg

K
Potassium
> 15% of RDA
Good for blood pressure, supports normal muscle function and plays an important role in the functioning of the nerves.
A
Vitamin A
> 25% of RDA
Good for vision, and contributes to normal iron metabolism, helps care for the skin from the inside out and has a positive influence on the immune system.
B1
Vitamin B1
> 5% of RDA
Good for the heart, memory and concentration. Has a positive influence on the functioning of the nervous system.
B2
Vitamin B2
> 2% of RDA
Promotes energy metabolism, protects cells and helps reduce fatigue and tiredness.
B3
Vitamin B3
> 3% of RDA
Activates the natural energy in the body. Is important for healthy skin and good for memory. Helps reduce tiredness and fatigue.


B5
Vitamin B5
> 3% of RDA
Supports energy metabolism, helps to reduce fatigue and helps with tension.
B6
Vitamin B6
> 5% of RDA
Is important for the formation of red blood cells, promotes energy metabolism, contributes to the regulation of hormonal activity and helps reduce fatigue.
Fa
Folic acid
> 10% of RDA
Helps the body create and maintain new cells. Folic acid supports, among other things, the production of red and white blood cells.
C
Vitamin C
> 33% of RDA
Supports your immune system and is an antioxidant, which protects against free radicals. Contributes to the formation of collagen, which is important for healthy blood vessels and healthy skin. Contributes to a clear mind and the proper functioning of the nerves.
E
Vitamin E
> 3% of RDA
Is an antioxidant. Helps protect body cells against damage from pollution and sunlight, among other things.
K
Vitamin K
> 4% of RDA
Helps in normal blood clotting. Supports the absorption of minerals into the bone tissue and contributes to the maintenance and maintenance of strong bones.
Ca
Calcium
> 6% of RDA
Supports blood clotting. Helps to keep the skeleton and teeth strong and is good for the muscles. Supports the energy level.
P
Phosphorus
> 8% of RDA
Contributes to the normal functioning of cell membranes and the maintenance of strong bones. Promotes energy metabolism.
Fe
Iron
> 5% of RDA
Supports the normal formation of red blood cells and hemoglobin, contributes to the process of cell renewal, aids the immune system, has a beneficial effect on normal oxygen transport in the body and keeps the mind clear.
I
Iodine
> 1% of RDA
Contributes to normal thyroid hormone production and thyroid function.
Cu
Copper
> 30% of RDA
Supports iron transport in the body, is good for the nervous and immune systems and helps protect body cells.
Mg
Magnesium
> 5% of RDA
Helps maintain strong bones, contributes to a good electrolyte balance and is good for concentration.
Mn
Manganese
> 80% of RDA
Important for the normal formation of connective tissue in cartilage and bones, is good for the skeleton and works to protect against free radicals.
Zn
Zinc
> 4% of RDA
Is conducive to concentration, good for hair and nails and helps to keep the skin healthy.
Immunity reviews
Goed voor je weerstand!

Afgezien van gember kende ik echt de helft van de ingredienten niet, maar heb wel echt het gevoel dat het werkt! Een pittig sapje, maar je merkt wel dat je erna zin hebt om te knallen. Aanrader!

Jacqueline from Den Haag on 12 July 2021

overheerlijk

Dit is de beste gembershot die ik ooit heb gedronken. Wat een explosie aan smaken!

John from Pieterburen on 8 July 2021

Ik voel me onoverwinnelijk door dit shotje!

In 1 slok voel ik me topfit!

Max from Haarlem on 8 July 2021

Verslavend

Zonder 1 keer per dag dit shotje voelt mijn dag niet compleet. Een echte opkikker!!!

Jerra from Apeldoorn on 1 July 2021