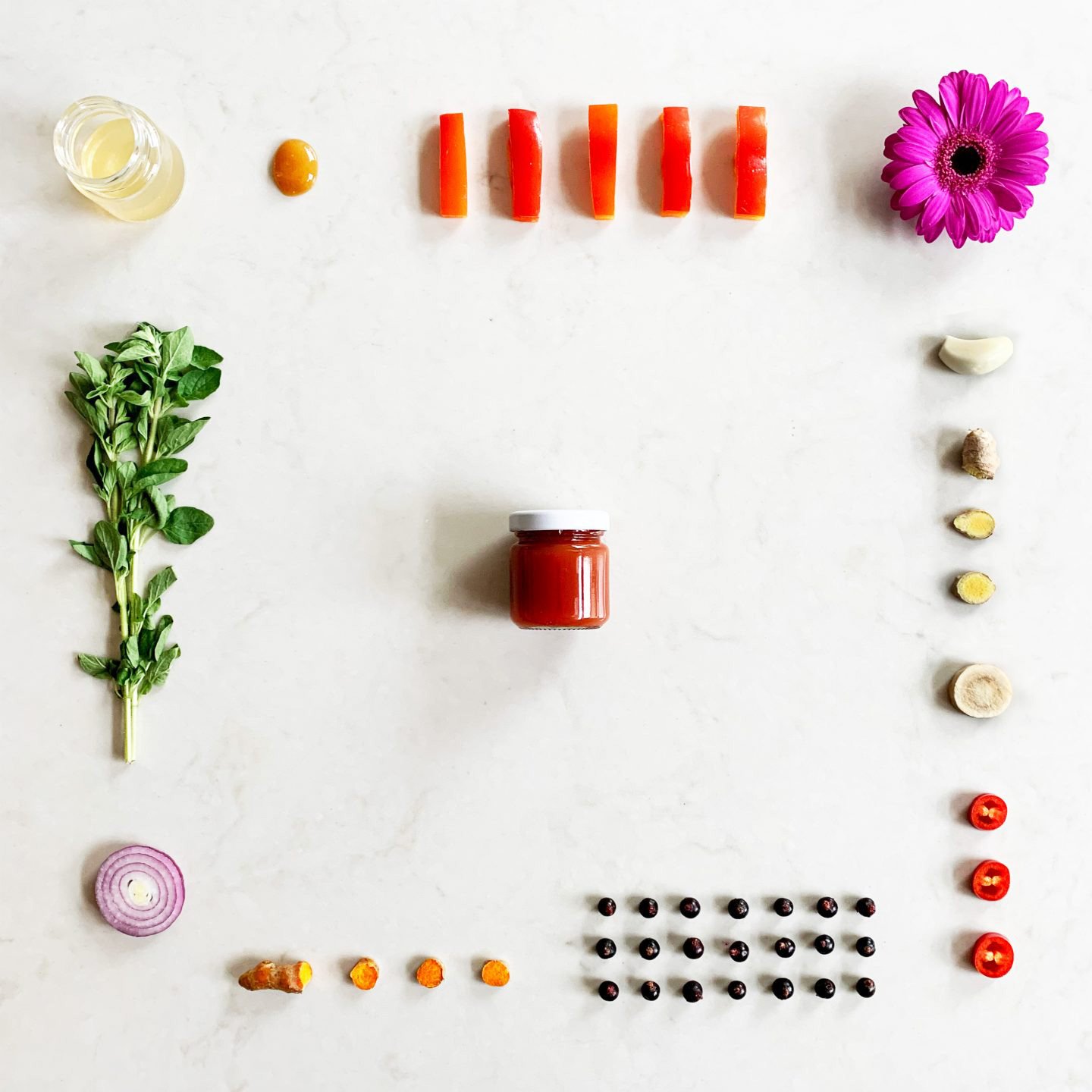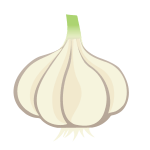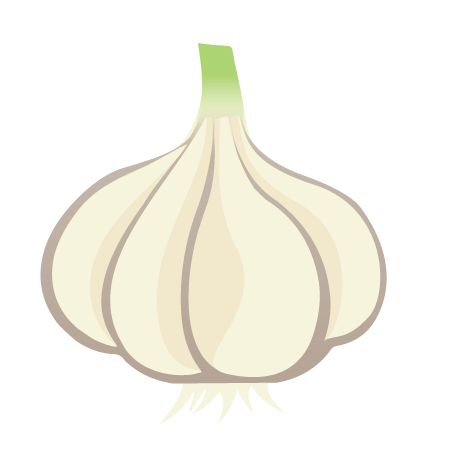 Protect
Supports your immune system and resistance*
Apple cider vinegar
Black currant
Echinacea
Garlic
Ginger
Horseradish
Manuka honey
Oregano
Red bell pepper
Red onion
Turmeric
We have put together this spicy shot with 100% organic ingredients that are known for their rich amount of nutrients and healthy properties. The high content of vitamin C in this shot supports your immune system and also ensures a good resistance *.
Could your resistance use some extra support? Then the PROTECT shot is made for you. We have specially developed this healthy drink to give your immune system a helping hand. With this super concentrated juice you get your daily dose of vitamin C in one gulp. This intense juice contains no less than 123% of the reference intake of vitamin C. The mineral manganese is also abundantly present. Both support your energy levels and help protect your body from free radicals. In addition, vitamin C contributes to extra energy in case of fatigue and a clear mind. The PROTECT shot is also a good source of other nutrients that have a positive effect on your immune system, such as vitamin E and vitamin B6. This shot also contains a lot of vitamin B5, which supports stress, tension and exertion.
A NATURAL WAY TO STRENGTHEN YOUR IMMUNE SYSTEM
The high dose of vitamins, minerals and antioxidants in this shot comes entirely from 100% organic, pure, raw ingredients that are known for their healthy properties. Your body can absorb these nutrients well and quickly in the form of a concentrated drink from the slow juicer. The elderberries, red pepper, habanero pepper and oregano are only picked in season so that they contain the optimal amount of healthy nutrients. The red onion, garlic, horseradish, turmeric and ginger are all fresh. You will not find powders or concentrates in this shot! The echinacea is grown especially for us by a local organic farmer. The Raw Manuka honey from New Zealand has an MGO value of 550. This is the highest value for plant substances that you can find worldwide. The unpasteurized apple cider vinegar is made from our own apples and fermented on site. This apple cider vinegar also contains the mother and all the beneficial substances that are supposed to be in apple cider vinegar. With this PROTECT shot you ingest a large amount of powerful substances from Mother Nature in one gulp.
THE FLAVOUR OF THE PROTECT SHOT
Look out! This sharp shot is primarily intended to support your immune system, not to spoil your taste buds. Do you like spicy and powerful? Then you might appreciate the taste of this juice. Otherwise it takes some getting used to for your digestion. When opening the PROTECT shot, the smells of bell pepper, apple cider vinegar, onion and garlic first meet you. While drinking, you first subtly taste the paprika, and then get a sharp kick from the raw onion, garlic, ginger, turmeric and horseradish. The habanero pepper provides a spicy aftertaste. The sweet and sour flavors of paprika, elderberries, apple cider vinegar and honey bring the whole into balance. As a result, you can count on a unique, spicy and complex taste experience. "Our juices are an excellent addition as part of a varied, balanced diet and a healthy lifestyle."
Nutrition facts
Nutritional value per 50ml
Energy

39 kcal / 163 kj

Protein

1.2 gr

Fat

0.4 gr

Saturated Fat

0 gr

Carbohydrates

6 gr

Natural Sugars

3.8 gr

Salt

<0.01 gr

Food fibres

2.3 gr
Allergy information
none
Vitamins & minerals
Shown as a percentage of the reference intake (RI).
RI of an average adult is 8400 kJ / 2000 kcal per day.

Potassium

249 mg

Vitamin A

55 μg

Vitamin B1

0.04 mg

Vitamin B2

0.05 mg

Vitamin B3

1.6 mg

Vitamin B5

0.9 mg

Vitamin B6

0.23 mg

Folic acid

23 μg

Vitamin C

98 mg

Vitamin E

1.9 μg

Vitamin K

16 μg

Calcium

30 mg

Phosphorus

61 mg

Iron

1.3 mg

Iodine

1 μg

Copper

0.1 mg

Magnesium

11 mg

Manganese

1.2 mg

Zinc

0.7 mg

K
Potassium
> 12% of RDA
Good for blood pressure, supports normal muscle function and plays an important role in the functioning of the nerves.
A
Vitamin A
> 7% of RDA
Good for vision, and contributes to normal iron metabolism, helps care for the skin from the inside out and has a positive influence on the immune system.
B1
Vitamin B1
> 4% of RDA
Good for the heart, memory and concentration. Has a positive influence on the functioning of the nervous system.
B2
Vitamin B2
> 4% of RDA
Promotes energy metabolism, protects cells and helps reduce fatigue and tiredness.
B3
Vitamin B3
> 10% of RDA
Activates the natural energy in the body. Is important for healthy skin and good for memory. Helps reduce tiredness and fatigue.


B5
Vitamin B5
> 15% of RDA
Supports energy metabolism, helps to reduce fatigue and helps with tension.
B6
Vitamin B6
> 16% of RDA
Is important for the formation of red blood cells, promotes energy metabolism, contributes to the regulation of hormonal activity and helps reduce fatigue.
Fa
Folic acid
> 12% of RDA
Helps the body create and maintain new cells. Folic acid supports, among other things, the production of red and white blood cells.
C
Vitamin C
> 123% of RDA
Supports your immune system and is an antioxidant, which protects against free radicals. Contributes to the formation of collagen, which is important for healthy blood vessels and healthy skin. Contributes to a clear mind and the proper functioning of the nerves.
E
Vitamin E
> 16% of RDA
Is an antioxidant. Helps protect body cells against damage from pollution and sunlight, among other things.
K
Vitamin K
> 21% of RDA
Helps in normal blood clotting. Supports the absorption of minerals into the bone tissue and contributes to the maintenance and maintenance of strong bones.
Ca
Calcium
> 4% of RDA
Supports blood clotting. Helps to keep the skeleton and teeth strong and is good for the muscles. Supports the energy level.
P
Phosphorus
> 9% of RDA
Contributes to the normal functioning of cell membranes and the maintenance of strong bones. Promotes energy metabolism.
Fe
Iron
> 9% of RDA
Supports the normal formation of red blood cells and hemoglobin, contributes to the process of cell renewal, aids the immune system, has a beneficial effect on normal oxygen transport in the body and keeps the mind clear.
I
Iodine
> 1% of RDA
Contributes to normal thyroid hormone production and thyroid function.
Cu
Copper
> 10% of RDA
Supports iron transport in the body, is good for the nervous and immune systems and helps protect body cells.
Mg
Magnesium
> 3% of RDA
Helps maintain strong bones, contributes to a good electrolyte balance and is good for concentration.
Mn
Manganese
> 60% of RDA
Important for the normal formation of connective tissue in cartilage and bones, is good for the skeleton and works to protect against free radicals.
Zn
Zinc
> 7% of RDA
Is conducive to concentration, good for hair and nails and helps to keep the skin healthy.
Protect reviews
Heel uniek

Dit shotje is zo uniek en zo ongelovelijk sterk. Ik neem dit vooral als ik mij licht griepig voel en al die gezonde ingredienten helpen mij dan enorm. Het is niet echt een lekker shotje maar dat geeft niet.

alexandra from rotterdam on 8 July 2021