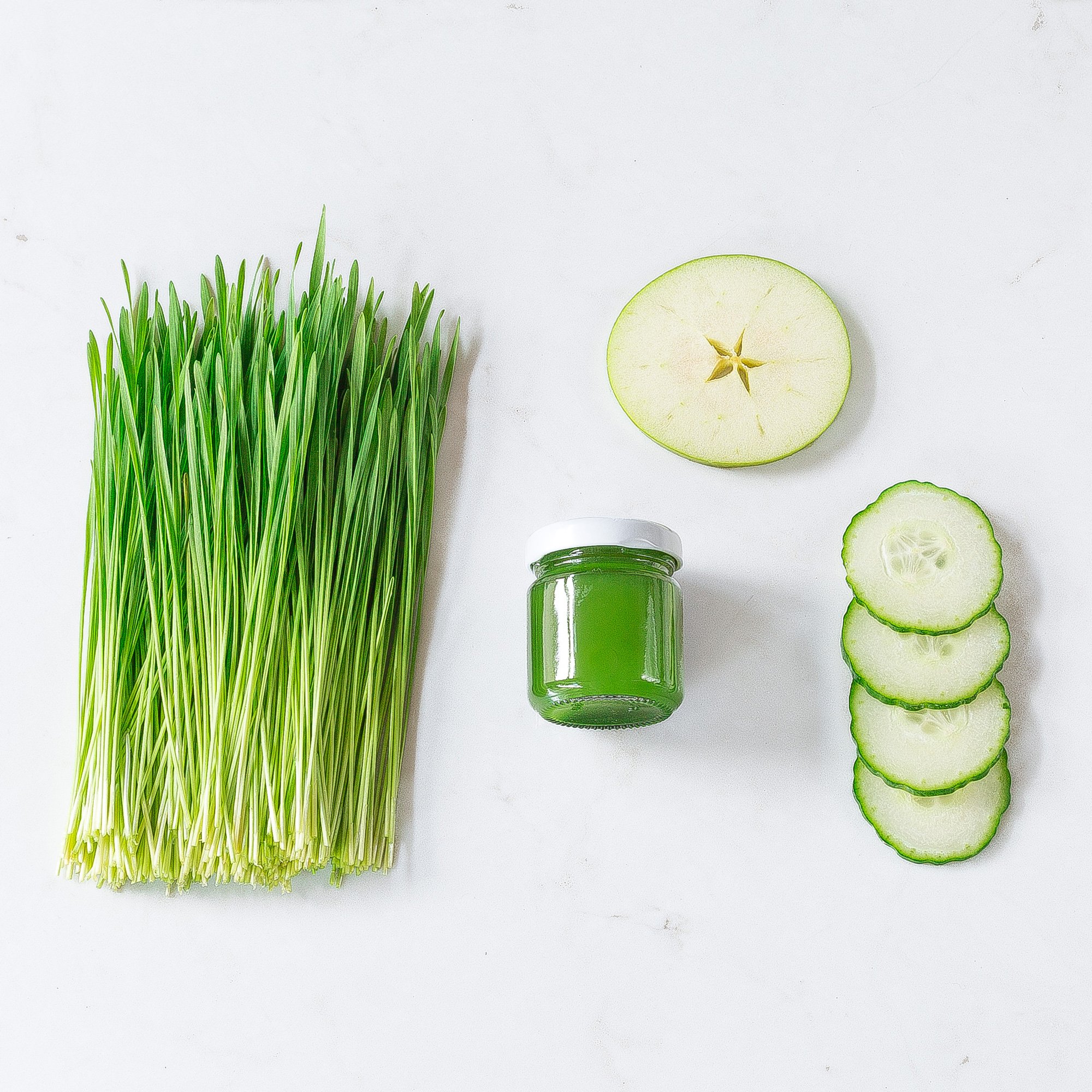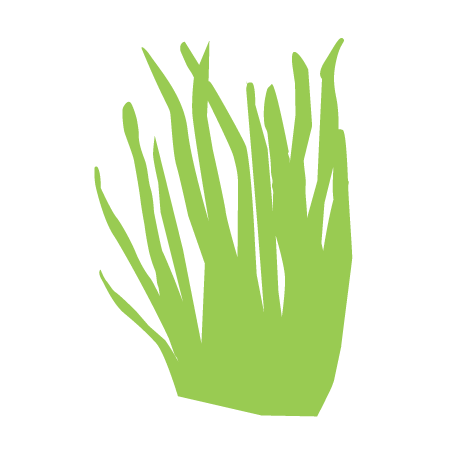 Purify
Wheatgrass juice protects against free radicals
Wheatgrass
Cucumber
Apple
Content: 50 ml
Wheatgrass juice is known for its purifying action. Wheatgrass is very rich in chlorophyll. This can help to absorb and dispose of toxic substances. In addition, this bright green wheatgrass shot is a good source of vitamins, minerals, antioxidants and amino acids.
Wheatgrass juice has been popular among lovers of healthy and pure food for many years. It is made from the young grass of the wheat plant, which stands out because of its bright green colour. This is due to a high amount of leafy greens and chlorophyll. This substance is partly responsible for the benefits that wheatgrass juice can have for your health. Since chlorophyll is known for its purifying effect, we have named this wheatgrass shot Purify. However, this little powerhouse does a lot more for your health. The nutrients in this shot also have a protective and strengthening effect on your body and mind.
WHY IS WHEATGRASS JUICE HEALTHY?
Many people drink wheatgrass juice because it has so many health benefits. The chlorophyll that gives this bright green stuff its striking colour can bind to waste products and help drain them out of the body. There are also other nutrients that make our wheatgrass shot so healthy. For example, it is rich in antioxidants from vitamin E, which protect the body against free radicals. Other vitamins and minerals are also abundant in our organic wheatgrass juice. With one small jar, you get 57% of your daily amount of vitamin B1. Among other things, this vitamin helps your heart and brain to function optimally. The substantial amount of zinc in it is good for your concentration, immune system, skin and hair. Moreover, wheatgrass juice is a natural source of many essential amino acids. Since we press raw, organic wheatgrass with the slowjuicer for this wheatgrass shot and then quickly freeze it, these nutrients are optimally retained.
THE FLAVOUR OF OUR WHEATGRASS JUICE
We'll be honest: Wheatgrass juice is better known for its health benefits than for its delicious taste. To make sure that buying a wheatgrass shot doesn't have to be done reluctantly, we've added some other, more tasty ingredients to this shot. The recipe of this wheatgrass juice also contains fresh cucumber and lemon. These bring the bitter taste of the wheatgrass nicely in balance. Open the jar of this wheatgrass shot and be surprised by the smell of green! This is reminiscent of misty meadows glistening in the early morning sun. The taste is alternately fresh, sweet and a little bitter.
Nutrition facts
Nutritional value per100ml
Energy

34 kcal / 142 kj

Protein

1.6 gr

Fat

0.4 gr

Saturated Fat

<0.2 gr

Carbohydrates

7.6 gr

Natural Sugars

3.2 gr

Salt

<0,2 gr

Food fibres

4.8 gr
Allergy information
none - (does not contain wheat or gluten)
Vitamins & minerals
These are richly represented in our wheatgrass shot:

Potassium

260 mg

Vitamin A

35 μg

Vitamin B1

0.63 mg

Vitamin B2

0.22 mg

Vitamin B3

1.5 mg

Vitamin B5

0.3 mg

Vitamin B6

0.16 mg

Folic acid

23 μg

Vitamin C

15 mg

Vitamin E

4.8 μg

Vitamin K

2.5 μg

Calcium

39 mg

Fluoride

0.1 mg

Phosphorus

4.1 mg

Iron

1.5 mg

Iodine

1 μg

Copper

0.1 mg

Magnesium

75 mg

Manganese

0.1 mg

Zinc

4.3 mg

K
Potassium
> 13% of RDA
Good for blood pressure, supports normal muscle function and plays an important role in the functioning of the nerves.
A
Vitamin A
> 4% of RDA
Good for vision, and contributes to normal iron metabolism, helps care for the skin from the inside out and has a positive influence on the immune system.
B1
Vitamin B1
> 57% of RDA
Good for the heart, memory and concentration. Has a positive influence on the functioning of the nervous system.
B2
Vitamin B2
> 16% of RDA
Promotes energy metabolism, protects cells and helps reduce fatigue and tiredness.
B3
Vitamin B3
> 9% of RDA
Activates the natural energy in the body. Is important for healthy skin and a good memory. Helps reduce fatigue and tiredness.


B5
Vitamin B5
> 5% of RDA
Supports energy metabolism, helps to reduce fatigue and helps with tension.
B6
Vitamin B6
> 11% of RDA
Important for the formation of red blood cells, promotes energy metabolism, contributes to the regulation of hormonal activity and helps reduce fatigue.
Fa
Folic acid
> 12% of RDA
Helps the body create and maintain new cells. Sufficient folic acid is particularly important for the formation of red blood cells.
C
Vitamin C
> 19% of RDA
Supports your immune system and is an anti-oxidant, protecting it against free radicals. Contributes to the formation of collagen, which is important for healthy blood vessels and beautiful skin. Is important for a well-functioning mind and the optimal functioning of the nerves.
E
Vitamin E
> 40% of RDA
An antioxidant that strengthens the immune system. Helps protect body cells from damage caused by pollution and sunlight, among other things.
K
Vitamin K
> 3% of RDA
Promotes blood clotting. Supports the absorption of minerals in bone tissue and contributes to the formation and maintenance of strong bones.
Ca
Calcium
> 5% of RDA
Promotes blood clotting. Helps to keep skeleton and teeth strong and is good for muscles. Helps energy levels.
F-
Fluoride
> 3% of RDA
Contributes to strong teeth and supports the mineral balance in tooth enamel.
P
Phosphorus
> 1% of RDA
Contributes to the normal functioning of cell membranes and the maintenance of strong bones. Promotes energy metabolism.
Fe
Iron
> 11% of RDA
Supports the formation of red blood cells and haemoglobin, contributes to the process of cell renewal, helps the immune system, has a beneficial effect on normal oxygen transport in the body and keeps the mind clear.
I
Iodine
> 1% of RDA
Contributes to normal thyroid hormone production and thyroid function.
Cu
Copper
> 10% of RDA
Supports iron transport in the body, is good for the nervous and immune systems and helps protect body cells.
Mg
Magnesium
> 20% of RDA
Helps maintain strong bones, contributes to a good electrolyte balance and is good for concentration.
Mn
Manganese
> 5% of RDA
Important for the normal formation of connective tissue in cartilage and bones, is good for the skeleton and works to protect against free radicals.
Zn
Zinc
> 43% of RDA
Is conducive to concentration, good for hair and nails and helps to keep the skin healthy.