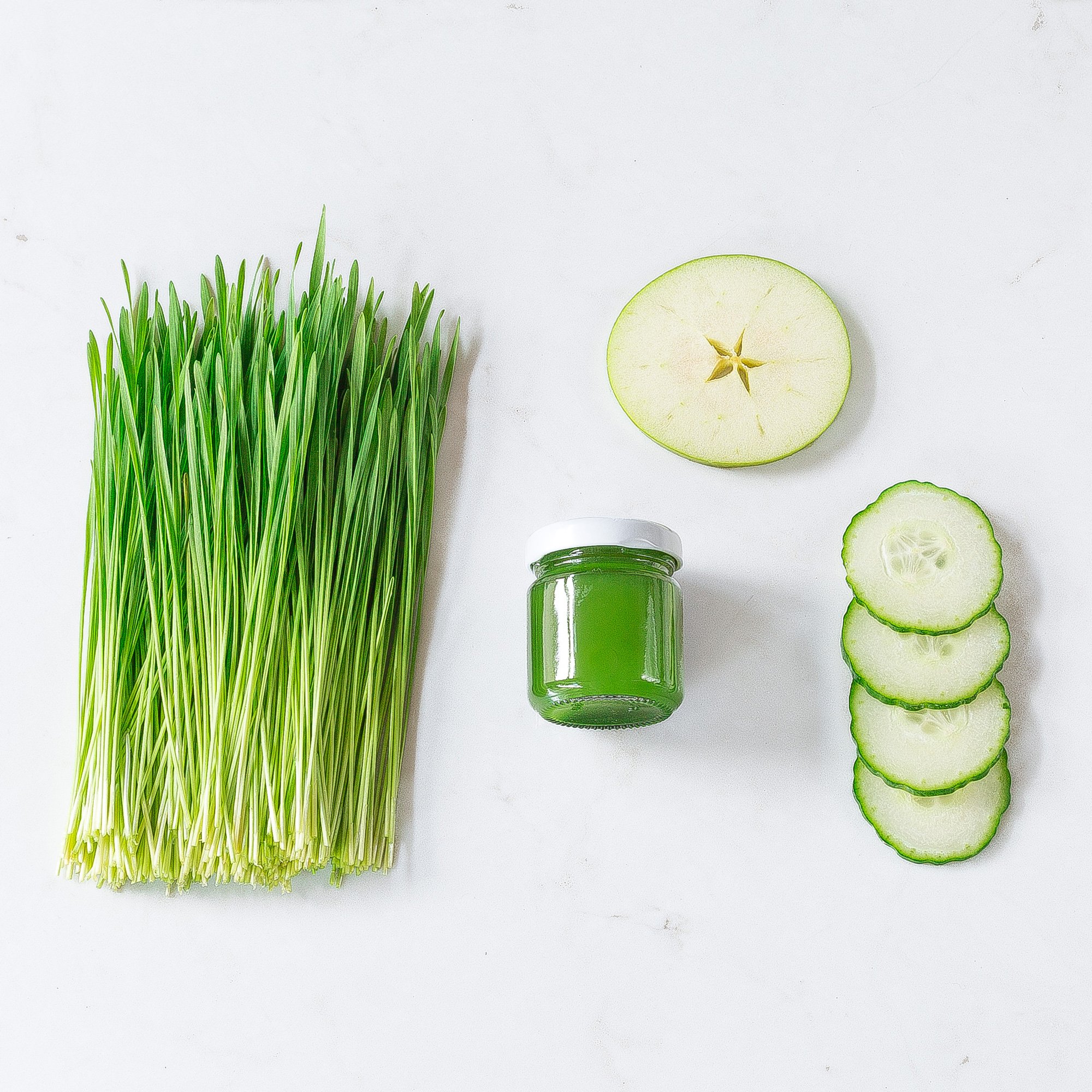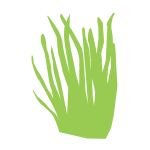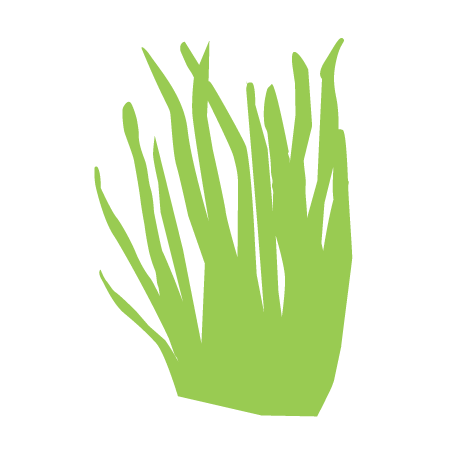 Purify
Wheatgrass juice protects against free radicals*
Wheatgrass
Cucumber
Apple
Wheatgrass juice is known for its purity and healthy properties. Wheatgrass is very rich in the antioxidants vitamin E and zinc, which help protect your body against free radicals*. In addition, this bright green wheatgrass shot contains a lot of leaf green, or chlorophyll, and is a good source of vitamins B1 and B2 and the mineral magnesium.
Wheatgrass juice has been popular among lovers of healthy and pure food for many years. It is made from the young grass of the wheat plant, which stands out for its bright green color. This color is due to the large amount of leaf green, or chlorophyll. This is the green pigment that allows plants to convert light into nutrients and energy (photosynthesis). Because this juice consists exclusively of pure and clean ingredients, we have called this wheatgrass shot PURIFY. This little powerhouse is a real asset to your health. The nutrients in this shot have a protective and supportive effect on your body.
WHY IS WHEATGRASS JUICE HEALTHY?
Many people drink wheatgrass juice because it has so many health benefits. It is rich in antioxidants, such as vitamin E, which help protect your body from free radicals. Other vitamins and minerals are also abundant in our organic wheatgrass juice. For example, with one small jar you already get 57% of the daily reference intake of vitamin B1. This vitamin is good for your heart and contributes to a good mental balance. The nice amount of zinc in our Purify juice is good for your concentration, resistance, skin and hair. In addition, wheatgrass juice naturally contains essential amino acids and chlorophyll. Because we use raw and organic wheatgrass for this wheatgrass shot, press it with the slow juicer and then quickly freeze the shot, these nutrients are optimally preserved.
THE FLAVOUR OF OUR WHEATGRASS JUICE
We'll be honest: wheatgrass juice is better known for its health benefits than for its delicious taste. So that buying a wheatgrass shot doesn't have to be done reluctantly, we've added some ingredients to this shot. The recipe of this wheatgrass juice also contains fresh cucumber and lemon. These nicely balance the somewhat bitter taste of the wheatgrass. Open the jar of this wheatgrass shot and be surprised by the smell of green! It is reminiscent of misty meadows glistening in the early morning sun. The taste is alternately sweet and slightly bitter. "Our juices are an excellent addition as part of a varied, balanced diet and a healthy lifestyle."
Nutrition facts
Nutritional value per100ml
Energy

34 kcal / 142 kj

Protein

1.6 gr

Fat

0.4 gr

Saturated Fat

<0.2 gr

Carbohydrates

7.6 gr

Natural Sugars

3.2 gr

Salt

<0,2 gr

Food fibres

4.8 gr
Allergy information
none - (does not contain wheat or gluten)
Vitamins & minerals
Shown as a percentage of the reference intake (RI).
RI of an average adult is 8400 kJ / 2000 kcal per day.

Potassium

260 mg

Vitamin A

35 μg

Vitamin B1

0.63 mg

Vitamin B2

0.22 mg

Vitamin B3

1.5 mg

Vitamin B5

0.3 mg

Vitamin B6

0.16 mg

Folic acid

23 μg

Vitamin C

15 mg

Vitamin E

4.8 μg

Vitamin K

2.5 μg

Calcium

39 mg

Phosphorus

4.1 mg

Iron

1.5 mg

Iodine

1 μg

Copper

0.1 mg

Magnesium

75 mg

Manganese

0.1 mg

Zinc

4.3 mg

K
Potassium
> 13% of RDA
Good for blood pressure, supports normal muscle function and plays an important role in the functioning of the nerves.
A
Vitamin A
> 4% of RDA
Good for vision, and contributes to normal iron metabolism, helps care for the skin from the inside out and has a positive influence on the immune system.
B1
Vitamin B1
> 57% of RDA
Good for the heart, memory and concentration. Has a positive influence on the functioning of the nervous system.
B2
Vitamin B2
> 16% of RDA
Promotes energy metabolism, protects cells and helps reduce fatigue and tiredness.
B3
Vitamin B3
> 9% of RDA
Activates the natural energy in the body. Is important for healthy skin and good for memory. Helps reduce tiredness and fatigue.


B5
Vitamin B5
> 5% of RDA
Supports energy metabolism, helps to reduce fatigue and helps with tension.
B6
Vitamin B6
> 11% of RDA
Is important for the formation of red blood cells, promotes energy metabolism, contributes to the regulation of hormonal activity and helps reduce fatigue.
Fa
Folic acid
> 12% of RDA
Helps the body create and maintain new cells. Folic acid supports, among other things, the production of red and white blood cells.
C
Vitamin C
> 19% of RDA
Supports your immune system and is an antioxidant, which protects against free radicals. Contributes to the formation of collagen, which is important for healthy blood vessels and healthy skin. Contributes to a clear mind and the proper functioning of the nerves.
E
Vitamin E
> 40% of RDA
Is an antioxidant. Helps protect body cells against damage from pollution and sunlight, among other things.
K
Vitamin K
> 3% of RDA
Helps in normal blood clotting. Supports the absorption of minerals into the bone tissue and contributes to the maintenance and maintenance of strong bones.
Ca
Calcium
> 5% of RDA
Supports blood clotting. Helps to keep the skeleton and teeth strong and is good for the muscles. Supports the energy level.
P
Phosphorus
> 1% of RDA
Contributes to the normal functioning of cell membranes and the maintenance of strong bones. Promotes energy metabolism.
Fe
Iron
> 11% of RDA
Supports the normal formation of red blood cells and hemoglobin, contributes to the process of cell renewal, aids the immune system, has a beneficial effect on normal oxygen transport in the body and keeps the mind clear.
I
Iodine
> 1% of RDA
Contributes to normal thyroid hormone production and thyroid function.
Cu
Copper
> 10% of RDA
Supports iron transport in the body, is good for the nervous and immune systems and helps protect body cells.
Mg
Magnesium
> 20% of RDA
Helps maintain strong bones, contributes to a good electrolyte balance and is good for concentration.
Mn
Manganese
> 5% of RDA
Important for the normal formation of connective tissue in cartilage and bones, is good for the skeleton and works to protect against free radicals.
Zn
Zinc
> 43% of RDA
Is conducive to concentration, good for hair and nails and helps to keep the skin healthy.
Purify reviews
Echt een klassieker

Dit sapje kon je vroeger in sapbarren kopen in Amsterdam, maar tegenwoordig is dit de enige plek waar ik dit nog kan krijgen. Je moet er echt aan wennen, maar je hebt daarna wel echt het gevoel dat je de dag aan kan.

Klaas from Amsterdam on 12 July 2021

Voel mij gereinigd

Dit shotje is eventjes wennen want het is behoorlijk groen. Maar zodra je het eenmal op hebt voel ik mij schoon en helder.

Neeltje from Vierhouten on 8 July 2021

Fris en zuiverend

Ik voel me weer helemaal opgeladen na zo'n shotje per dag

Carlijn from Schiedam on 8 July 2021

Mijn go to - shotje

Dit shotje doet wonderen bij mij. Wanneer ik een dipje heb tijdens mijn werkdag neem ik dit shotje en voila! Ik kan er weer een uur tegenaan. Een echte aanrader!

Wendy from Utrecht on 1 July 2021