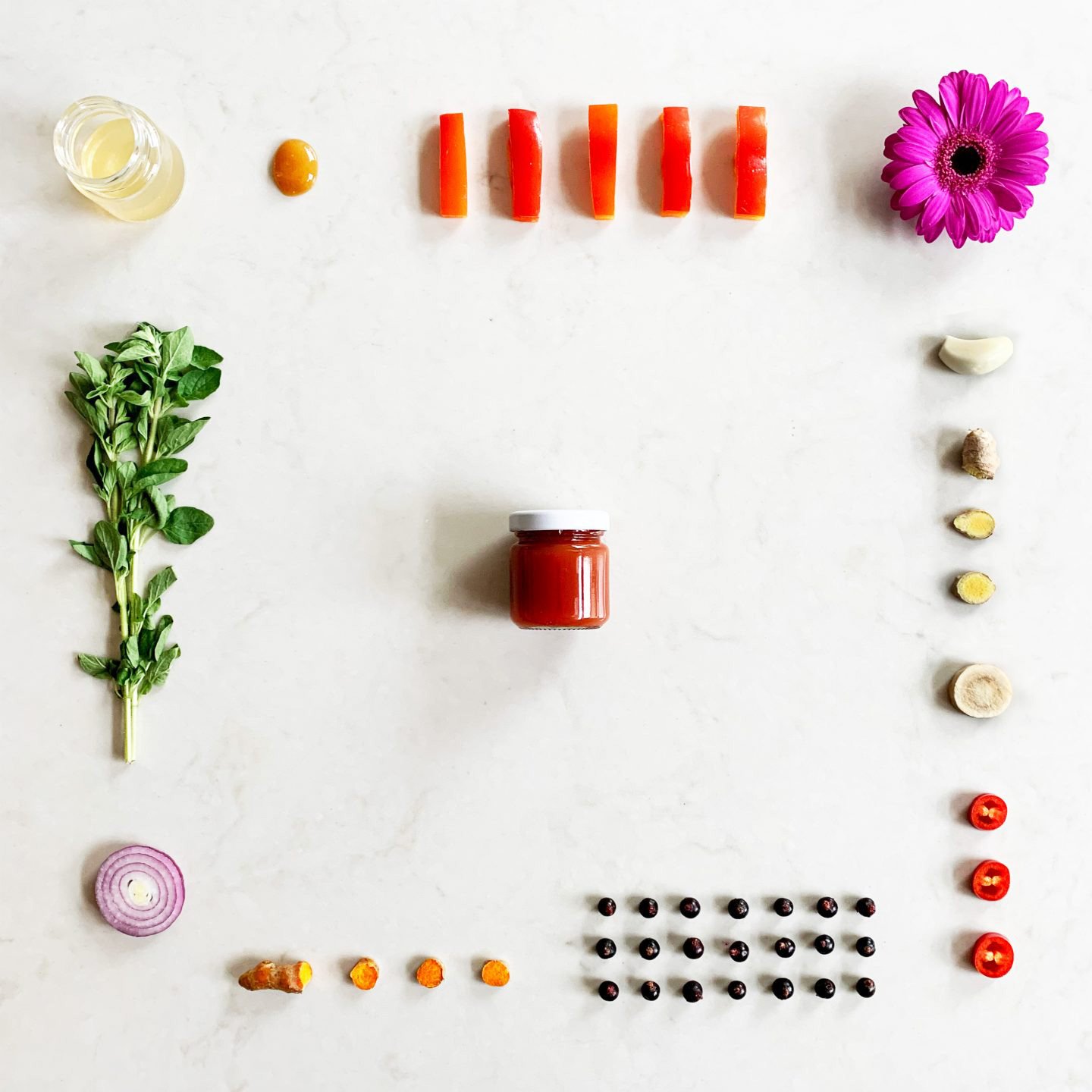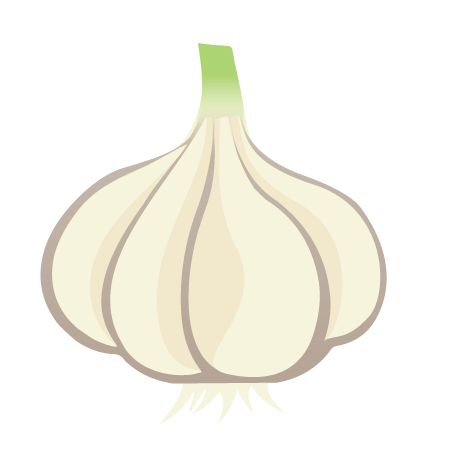 Protect
Boost your immune system
Red bell pepper
Elderberries
Garlic
Red onion
Horseradish
Ginger
Turmeric
Echinacea
Habanero pepper
Oregano
Apple cider vinegar
Manuka honey
Content: 50 ml
We have composed this spicy anti-flu shot with 100% organic ingredients known for their strong antibacterial, antiviral and antioxidant action.
Feeling flu-ey and sluggish? Do you want to boost you immune system? Then, the Protect shot is made for you. We specially developed this anti-flu drink in 2020 to strengthen your immune system. With this super concentrated and sharp shot, you get your daily dose of vitamin C and manganese in one sip. This intense anti-flu juice contains 123% of the daily recommended amount of vitamin C. The mineral, manganese, is also abundantly present. Both strengthen your immune system, increase your energy levels and protect against free radicals. Moreover, they give extra energy and contribute to a clear mind. The Protect anti-flu shot is also rich in other nutrients that support your immune system, such as vitamin E and vitamin B6. This shot also contains a lot of vitamin B5, which helps make you more resistant to stress, tension and exertion.
A NATURAL WAY TO STRENGTHEN YOUR IMMUNE SYSTEM
The high dose of vitamins, minerals and antioxidants in this shot is entirely derived from 100% organic, pure, raw ingredients known for their antiviral action. Your body can absorb these nutrients well and quickly with this concentrated anti-flu drink from the slowjuicer. The elderberries, red pepper, habanero pepper and oregano are only picked when they're in season so that they contain the optimal amount of healthy nutrients. The red onion, garlic, horseradish, turmeric and ginger are all fresh. You will not find any powders or concentrates in this shot! The echinacea is grown especially for us by a local organic farmer. The raw manuka honey from New Zealand has an MGO value of 550. This is the highest value for bioactive substances you can find worldwide. The unpasteurised apple cider vinegar is made from our own apples and fermented on location. This cider vinegar also contains the mother and all the beneficial substances that should be in cider vinegar. In one sip, this anti-flu shot gives you Mother Nature's most powerful protective substances.
THE FLAVOUR OF THE ANTI-FLU SHOT
Please watch out! This sharp anti-flu shot is primarily intended to boost your immune system rather than treat your taste buds. Do you like spicy and powerful flavours? Then, maybe you will appreciate the taste of this anti-flu juice. Otherwise, it will take some getting used to. When you open the Protect shot, the scents of paprika, apple cider vinegar, onion and garlic hit you first. While drinking, you first subtly taste the sweet pepper and then get a sharp kick from the raw onion, garlic, ginger, turmeric and horseradish. The habanero pepper provides a spicy aftertaste. The sweet and sour flavours of paprika, elderberry, cider vinegar and honey bring the whole thing into balance. You can, therefore, count on a unique, spicy and complex taste experience.
Nutrition facts
Nutritional value per 50ml
Energy

39 kcal / 163 kj

Protein

1.2 gr

Fat

0.4 gr

Saturated Fat

0 gr

Carbohydrates

6 gr

Natural Sugars

3.8 gr

Salt

<0.01 gr

Food fibres

2.3 gr
Allergy information
none
Vitamins & minerals
These are richly represented in our Protect shot:

Potassium

249 mg

Vitamin A

55 μg

Vitamin B1

0.04 mg

Vitamin B2

0.05 mg

Vitamin B3

1.6 mg

Vitamin B5

0.9 mg

Vitamin B6

0.23 mg

Folic acid

23 μg

Vitamin C

98 mg

Vitamin E

1.9 μg

Vitamin K

16 μg

Calcium

30 mg

Fluoride

0.1 mg

Phosphorus

61 mg

Iron

1.3 mg

Iodine

1 μg

Copper

0.1 mg

Magnesium

11 mg

Manganese

1.2 mg

Zinc

0.7 mg

K
Potassium
> 12% of RDA
Good for blood pressure, supports normal muscle function and plays an important role in the functioning of the nerves.
A
Vitamin A
> 7% of RDA
Good for vision, and contributes to normal iron metabolism, helps care for the skin from the inside out and has a positive influence on the immune system.
B1
Vitamin B1
> 4% of RDA
Good for the heart, memory and concentration. Has a positive influence on the functioning of the nervous system.
B2
Vitamin B2
> 4% of RDA
Promotes energy metabolism, protects cells and helps reduce fatigue and tiredness.
B3
Vitamin B3
> 10% of RDA
Activates the natural energy in the body. Is important for healthy skin and a good memory. Helps reduce fatigue and tiredness.


B5
Vitamin B5
> 15% of RDA
Supports energy metabolism, helps to reduce fatigue and helps with tension.
B6
Vitamin B6
> 16% of RDA
Important for the formation of red blood cells, promotes energy metabolism, contributes to the regulation of hormonal activity and helps reduce fatigue.
Fa
Folic acid
> 12% of RDA
Helps the body create and maintain new cells. Sufficient folic acid is particularly important for the formation of red blood cells.
C
Vitamin C
> 123% of RDA
Supports your immune system and is an anti-oxidant, protecting it against free radicals. Contributes to the formation of collagen, which is important for healthy blood vessels and beautiful skin. Is important for a well-functioning mind and the optimal functioning of the nerves.
E
Vitamin E
> 16% of RDA
An antioxidant that strengthens the immune system. Helps protect body cells from damage caused by pollution and sunlight, among other things.
K
Vitamin K
> 21% of RDA
Promotes blood clotting. Supports the absorption of minerals in bone tissue and contributes to the formation and maintenance of strong bones.
Ca
Calcium
> 4% of RDA
Promotes blood clotting. Helps to keep skeleton and teeth strong and is good for muscles. Helps energy levels.
F-
Fluoride
> 3% of RDA
Contributes to strong teeth and supports the mineral balance in tooth enamel.
P
Phosphorus
> 9% of RDA
Contributes to the normal functioning of cell membranes and the maintenance of strong bones. Promotes energy metabolism.
Fe
Iron
> 9% of RDA
Supports the formation of red blood cells and haemoglobin, contributes to the process of cell renewal, helps the immune system, has a beneficial effect on normal oxygen transport in the body and keeps the mind clear.
I
Iodine
> 1% of RDA
Contributes to normal thyroid hormone production and thyroid function.
Cu
Copper
> 10% of RDA
Supports iron transport in the body, is good for the nervous and immune systems and helps protect body cells.
Mg
Magnesium
> 3% of RDA
Helps maintain strong bones, contributes to a good electrolyte balance and is good for concentration.
Mn
Manganese
> 60% of RDA
Important for the normal formation of connective tissue in cartilage and bones, is good for the skeleton and works to protect against free radicals.
Zn
Zinc
> 7% of RDA
Is conducive to concentration, good for hair and nails and helps to keep the skin healthy.