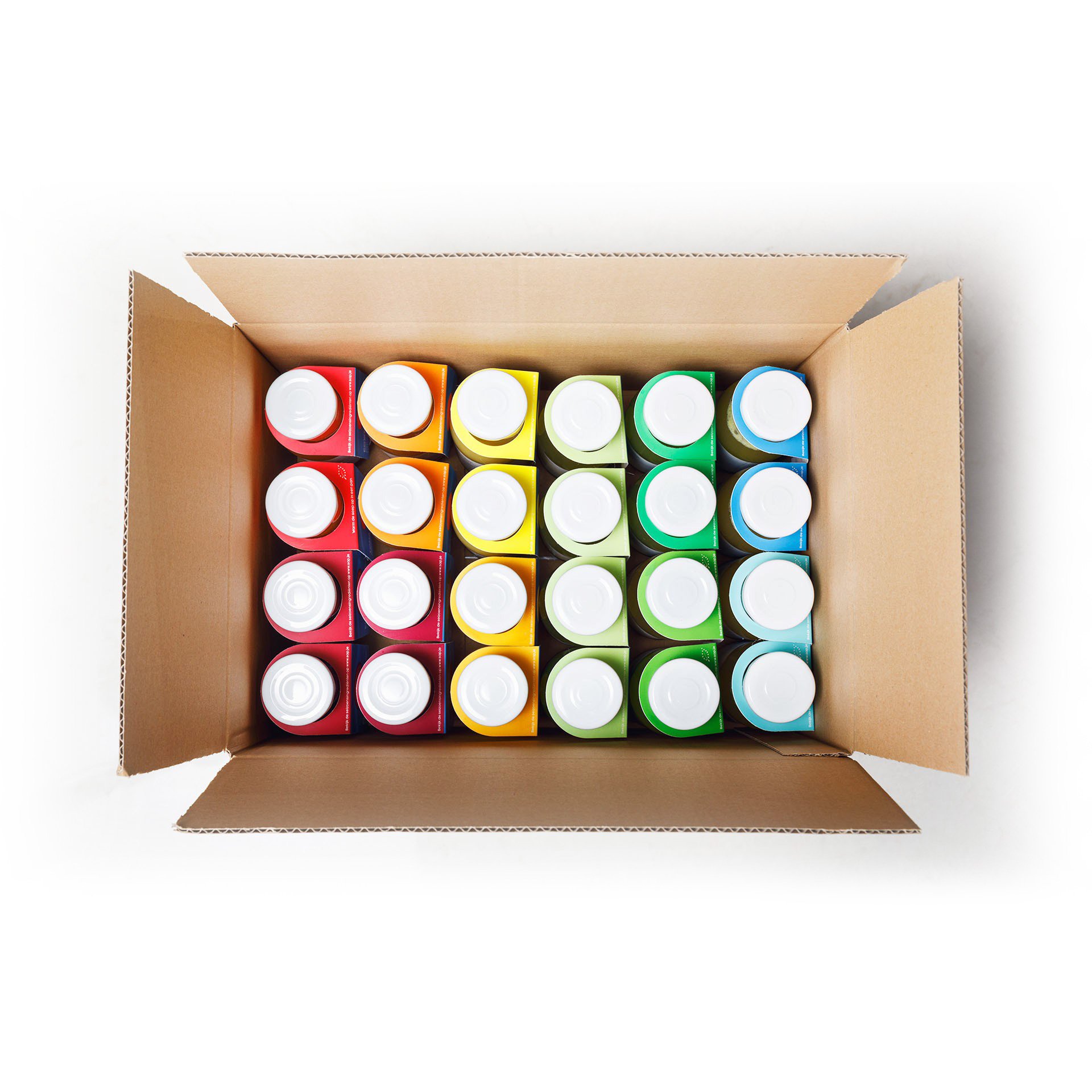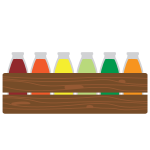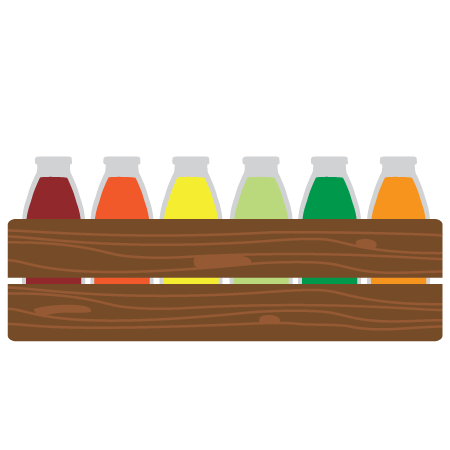 Vegetable juice box
100% organic vegetable juices with seasonal ingredients
With this Juice box you can try 24 tasty vegetable juices in one go. Be pleasantly surprised by all the colors, aromas and flavors of our organic vegetable juices.
At Sapje, we love to make tasty vegetable juices. Since everyone likes different flavors, we have developed many different vegetable juice recipes. Since we also work regularly with top chefs and health experts, you can now order no less than 16 different vegetable juices from us. This allows you to easily ingest the nutrients provided by up to a hundred seasonal and local ingredients. The variety makes drinking our vegetable juices healthy. Thus, there is every reason to order our colourful Juice box containing all our Slowjuice vegetable juices.
WHAT MAKES OUR ORGANIC VEGETABLE JUICES HEALTHY?
With our juice box you get 24 tasty vegetable juices in one go. You get one bottle of vegetable juice from some variants, from others two. This gives you plenty of opportunity to taste all our organic vegetable juices. The contents of the juice box have been carefully composed, so that you get a nice variety of nutrients. As you can see below, with our vegetable juices you get almost all vitamins and minerals in large quantities in a natural way.
In addition, the 100% organic and seasonal vegetable juices are ideal to boost your daily vegetable intake. All vegetables, fruits, herbs, spices and seaweeds are local and super fresh. We juice all vegetable juices with a slow juicer and then immediately freeze them to optimally retain the healthy nutrients, colour, aroma and taste.
"Our juices are an excellent addition as part of a varied, balanced diet and a healthy lifestyle."
ORDERING VEGETABLE JUICES: CHEAPER WITH A JUICE BOX
At Sapje, we strive to make our vegetable juices as if you were making them at home yourself. However, making your own vegetable juice from a wide variety of local and seasonal ingredients takes a lot of time, money and effort. Ordering vegetable juices from Sapje is a lot easier. After all, you don't have to do any shopping or cut and press ingredients. This means you can easily get the nutrients of more than 10 kilos of organic vegetables, herbs, spices, seaweed and fruit. By ordering a Juice box with 24 vegetable juices in one go, you also save on the price. Buying our Juice box is comparatively cheaper than ordering the same number of vegetable juices separately. As a bonus, a Juice box full of fresh vegetable juice is also a feast for your taste buds! When you order our juice box, we will deliver it to your home via a frozen delivery service, at a time that suits you best.
THE BENEFITS OF THE VEGETABLE BOX FROM SAPJE
Cheaper: A box of juices is 5% cheaper than the total amount of the same juices if you order them separately.
Varied: The Vegetable Juice Box consists of all 15 different types of vegetable juices.
Well stocked: With 24 bottles of vegetable juices per box, you can spread these over a month.
Organic: They are 100% pure and organic vegetable juice, without added sugars and preservatives.
Naturally healthy: The vegetable juices are hand pressed with the slow juicer and frozen in the shock freezer for optimal preservation of the healthy nutrients.
Easy: Order the box of vegetable juices online and decide for yourself where and when we deliver it. Then you only have to defrost the juices for a fresh, healthy and tasty result.
"Our juices are an excellent addition as part of a varied, balanced diet and a healthy lifestyle."
Nutrition facts
Nutritional value pertotal juice box
Energy

2032 kcal

Protein

62 gr

Fat

17,5 gr

Saturated Fat

5.7 gr

Carbohydrates

388 gr

Natural Sugars

230 gr

Salt

<9,6 gr

Food fibres

89 gr
Allergy information
contains celery & carrot
Vitamins & minerals
Shown as a percentage of the reference intake (RI).
RI of an average adult is 8400 kJ / 2000 kcal per day.

Potassium

21045 mg

Vitamin A

16305 μg

Vitamin B1

4 mg

Vitamin B2

3.7 mg

Vitamin B3

37 mg

Vitamin B5

17.4 mg

Vitamin B6

6.2 mg

Folic acid

2039 μg

Vitamin C

1169 mg

Vitamin E

32 μg

Vitamin K

3067 μg

Calcium

5718 mg

Phosphorus

2198 mg

Iron

57 mg

Iodine

450 μg

Copper

5.9 mg

Magnesium

978 mg

Manganese

16.7 mg

Zinc

24.6 mg

K
Potassium
> 1052% of RDA
Good for blood pressure, supports normal muscle function and plays an important role in the functioning of the nerves.
A
Vitamin A
> 2038% of RDA
Good for vision, and contributes to normal iron metabolism, helps care for the skin from the inside out and has a positive influence on the immune system.
B1
Vitamin B1
> 364% of RDA
Good for the heart, memory and concentration. Has a positive influence on the functioning of the nervous system.
B2
Vitamin B2
> 264% of RDA
Promotes energy metabolism, protects cells and helps reduce fatigue and tiredness.
B3
Vitamin B3
> 231% of RDA
Activates the natural energy in the body. Is important for healthy skin and good for memory. Helps reduce tiredness and fatigue.


B5
Vitamin B5
> 290% of RDA
Supports energy metabolism, helps to reduce fatigue and helps with tension.
B6
Vitamin B6
> 443% of RDA
Is important for the formation of red blood cells, promotes energy metabolism, contributes to the regulation of hormonal activity and helps reduce fatigue.
Fa
Folic acid
> 1020% of RDA
Helps the body create and maintain new cells. Folic acid supports, among other things, the production of red and white blood cells.
C
Vitamin C
> 1461% of RDA
Supports your immune system and is an antioxidant, which protects against free radicals. Contributes to the formation of collagen, which is important for healthy blood vessels and healthy skin. Contributes to a clear mind and the proper functioning of the nerves.
E
Vitamin E
> 267% of RDA
Is an antioxidant. Helps protect body cells against damage from pollution and sunlight, among other things.
K
Vitamin K
> 4089% of RDA
Helps in normal blood clotting. Supports the absorption of minerals into the bone tissue and contributes to the maintenance and maintenance of strong bones.
Ca
Calcium
> 715% of RDA
Supports blood clotting. Helps to keep the skeleton and teeth strong and is good for the muscles. Supports the energy level.
P
Phosphorus
> 314% of RDA
Contributes to the normal functioning of cell membranes and the maintenance of strong bones. Promotes energy metabolism.
Fe
Iron
> 407% of RDA
Supports the normal formation of red blood cells and hemoglobin, contributes to the process of cell renewal, aids the immune system, has a beneficial effect on normal oxygen transport in the body and keeps the mind clear.
I
Iodine
> 300% of RDA
Contributes to normal thyroid hormone production and thyroid function.
Cu
Copper
> 590% of RDA
Supports iron transport in the body, is good for the nervous and immune systems and helps protect body cells.
Mg
Magnesium
> 261% of RDA
Helps maintain strong bones, contributes to a good electrolyte balance and is good for concentration.
Mn
Manganese
> 835% of RDA
Important for the normal formation of connective tissue in cartilage and bones, is good for the skeleton and works to protect against free radicals.
Zn
Zinc
> 246% of RDA
Is conducive to concentration, good for hair and nails and helps to keep the skin healthy.
Vegetable juice box reviews
Verplichte kost als je begint

Ik geef deze box vaak cadeau aan vrienden en familie, maar bestel ook regelmatig voor mezelf. Dit is echt een van de leukste cadeaus om te geven. Je moet wel ff subtiel checken of ze plek hebben in de vriezer. Aanrader!

Anita from Zeewolde on 12 July 2021

Heel fijn voor de afwisseling

Ik vind de groentesap box vooral fijn om dagelijks andere sappen te drinken en verschillende vitaminen en mineralen op te nemen. Sappen zijn heerlijk!

Marloes from Amstelveen on 8 July 2021

Elke dag een ander sapje

2 keer per maandag bestel ik deze box. Ik pak 1 a 2 sapjes per dag. Het is heerlijk dat je zoveel smaken in 1 box hebt zodat het niet eentonig kan worden.

Joshua from Nieuw vennep on 1 July 2021