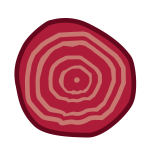 Energy
Red beetroot juice helps fight fatigue*
Beetroot
Red cabbage
Apple
Lemon
Purple kale
Ginger
Basil
Carrot
Start your day with a nice pick-me-up. Support your energy levels and help reduce fatigue with Vitamin C and B6* in this organic beetroot juice. This purple powerhouse is also full of other vitamins and minerals, such as Vitamins K and A, Potassium and Manganese. These nutrients help you stay healthy and strong.
Could you use some extra energy, strength and fitness? Then our Energy juice with beetroot juice is a great addition to your diet. Beetroot is a natural source of potassium, which is beneficial for maintaining normal blood pressure. In addition, our Energy juice with beetroot is full of vitamins and minerals that support your resistance, such as vitamin C and folic acid. It is therefore often drunk by people who are consciously concerned with their health. Also for athletes, juice with beetroot often forms a regular part of their diet. Besides healthy, this beet juice with apple and ginger is also very tasty.
WHY IS BEETROOT JUICE HEALTHY?
Organic beet juice has been touted by several health experts. But how healthy is our beetroot juice actually? Especially the combination of different vitamins and minerals makes this beetroot juice so healthy. As you can see below, this intense purple juice is very rich in vitamin A. You immediately get your daily dose of this vitamin with one bottle. With this you do your eyes, your skin and your immune system a favor. Vitamin A is also an important nutrient for maintaining a good iron level in your blood, because it is beneficial for your iron metabolism. Vitamin C is also a nutrient that is abundantly present in the Energy juice. This vitamin stimulates the absorption of iron from your diet and is also good for your immune system and the maintenance of healthy skin. Our Energy beetroot juice is also rich in antioxidants, such as copper and manganese. These substances help protect your cells and tissues from external influences, including UV radiation and air pollution. Vitamin B6 in this Energy beetroot juice supports your energy level and vitamin K is good for maintaining strong bones. Drinking this beetroot juice may discolor your urine a bit, but that's nothing to worry about. If you have a predisposition to kidney stones, you have to be a little careful with drinking a lot of beetroot juice. Because beets are fairly rich in oxalic acid that binds calcium, it is wise to drink beet juice in moderation if you regularly suffer from this problem with your kidneys.
THE FLAVOUR OF OUR BEETROOT JUICE
This juice has a beautiful, deep purple color and smells slightly of beet, basil and lemon zest when you open the bottle. With the first sip you will probably taste the earthy, sweet taste of beetroot. When pressing this organic beet juice, the beets, skin and all, go into the slow juicer, because the skin contains most of the flavor and nutrients. This provides an extra earthy taste, but makes this beetroot juice healthy. Purple cabbage varieties, purple sweet potato and purple carrot enhance the intense color and provide extra vitamins. The addition of ginger provides a sharp, warm kick that immediately wakes you up. The apple, lemon and basil provide a fresh and invigorating accent in this beetroot juice. It is not without reason that the Energy beet juice is also very suitable as a replacement for a cup of coffee. Do you want extra strength and energy in a healthy way? Then buying beetroot juice is a good idea! "Our juices are an excellent addition as part of a varied, balanced diet and a healthy lifestyle."
Nutrition facts
Nutritional value per 100ml
Energy

36 kcal / 151 kj

Protein

0.7 gr

Fat

0,3 gr

Saturated Fat

<0.1 gr

Carbohydrates

8 gr

Natural Sugars

5.9 gr

Salt

<0.2 gr

Food fibres

1,2 gr
Allergy information
contains carrot
Vitamins & minerals
Shown as a percentage of the reference intake (RI).
RI of an average adult is 8400 kJ / 2000 kcal per day.

Potassium

1156 mg

Vitamin A

1145 μg

Vitamin B1

0.15 mg

Vitamin B2

0.14 mg

Vitamin B3

1.4 mg

Vitamin B5

0.8 mg

Vitamin B6

0.26 mg

Folic acid

77 μg

Vitamin C

35 mg

Vitamin E

1.4 μg

Vitamin K

38 μg

Calcium

79 mg

Phosphorus

126 mg

Iron

1.1 mg

Iodine

7 μg

Copper

0.2 mg

Magnesium

40 mg

Manganese

0.7 mg

Zinc

1 mg

K
Potassium
> 58% of RDA
Good for blood pressure, supports normal muscle function and plays an important role in the functioning of the nerves.
A
Vitamin A
> 143% of RDA
Good for vision, and contributes to normal iron metabolism, helps care for the skin from the inside out and has a positive influence on the immune system.
B1
Vitamin B1
> 14% of RDA
Good for the heart, memory and concentration. Has a positive influence on the functioning of the nervous system.
B2
Vitamin B2
> 10% of RDA
Promotes energy metabolism, protects cells and helps reduce fatigue and tiredness.
B3
Vitamin B3
> 9% of RDA
Activates the natural energy in the body. Is important for healthy skin and good for memory. Helps reduce tiredness and fatigue.


B5
Vitamin B5
> 13% of RDA
Supports energy metabolism, helps to reduce fatigue and helps with tension.
B6
Vitamin B6
> 19% of RDA
Is important for the formation of red blood cells, promotes energy metabolism, contributes to the regulation of hormonal activity and helps reduce fatigue.
Fa
Folic acid
> 39% of RDA
Helps the body create and maintain new cells. Folic acid supports, among other things, the production of red and white blood cells.
C
Vitamin C
> 44% of RDA
Supports your immune system and is an antioxidant, which protects against free radicals. Contributes to the formation of collagen, which is important for healthy blood vessels and healthy skin. Contributes to a clear mind and the proper functioning of the nerves.
E
Vitamin E
> 12% of RDA
Is an antioxidant. Helps protect body cells against damage from pollution and sunlight, among other things.
K
Vitamin K
> 51% of RDA
Helps in normal blood clotting. Supports the absorption of minerals into the bone tissue and contributes to the maintenance and maintenance of strong bones.
Ca
Calcium
> 10% of RDA
Supports blood clotting. Helps to keep the skeleton and teeth strong and is good for the muscles. Supports the energy level.
P
Phosphorus
> 18% of RDA
Contributes to the normal functioning of cell membranes and the maintenance of strong bones. Promotes energy metabolism.
Fe
Iron
> 8% of RDA
Supports the normal formation of red blood cells and hemoglobin, contributes to the process of cell renewal, aids the immune system, has a beneficial effect on normal oxygen transport in the body and keeps the mind clear.
I
Iodine
> 5% of RDA
Contributes to normal thyroid hormone production and thyroid function.
Cu
Copper
> 20% of RDA
Supports iron transport in the body, is good for the nervous and immune systems and helps protect body cells.
Mg
Magnesium
> 11% of RDA
Helps maintain strong bones, contributes to a good electrolyte balance and is good for concentration.
Mn
Manganese
> 35% of RDA
Important for the normal formation of connective tissue in cartilage and bones, is good for the skeleton and works to protect against free radicals.
Zn
Zinc
> 10% of RDA
Is conducive to concentration, good for hair and nails and helps to keep the skin healthy.
Energy reviews
Geniaal sapje

Paarse wortel, paarse boerenkool, rode biet... Ik vind het geniaal dat je zoveel gezonde en prachtige gekleurde groenten kan drinken terwijl het zo goed smaakt. Ik weet niet hoe ze het doen, maar die sapjes smaken heerlijk. Ik voel me trouwens ook echt beter. Drink het al religieus 4 weken elke dag en ik merk echt verschil.

Marije from Hilversum on 12 July 2021

Heel lekkere smaak!

Echt heel lekker

Carola from Arnhem on 8 July 2021

Heerlijk!

Dit is een perfect sapje ter maaltijdvervanger. Ik ben fan!

Sharon from Schipluiden on 1 July 2021

Wat een heerlijke bietensap!

Dit sapje is een genot voor al mijn zintuigen en drink ik dagelijks bij het ontbijt.

Annemiek from Den bosch on 29 June 2021