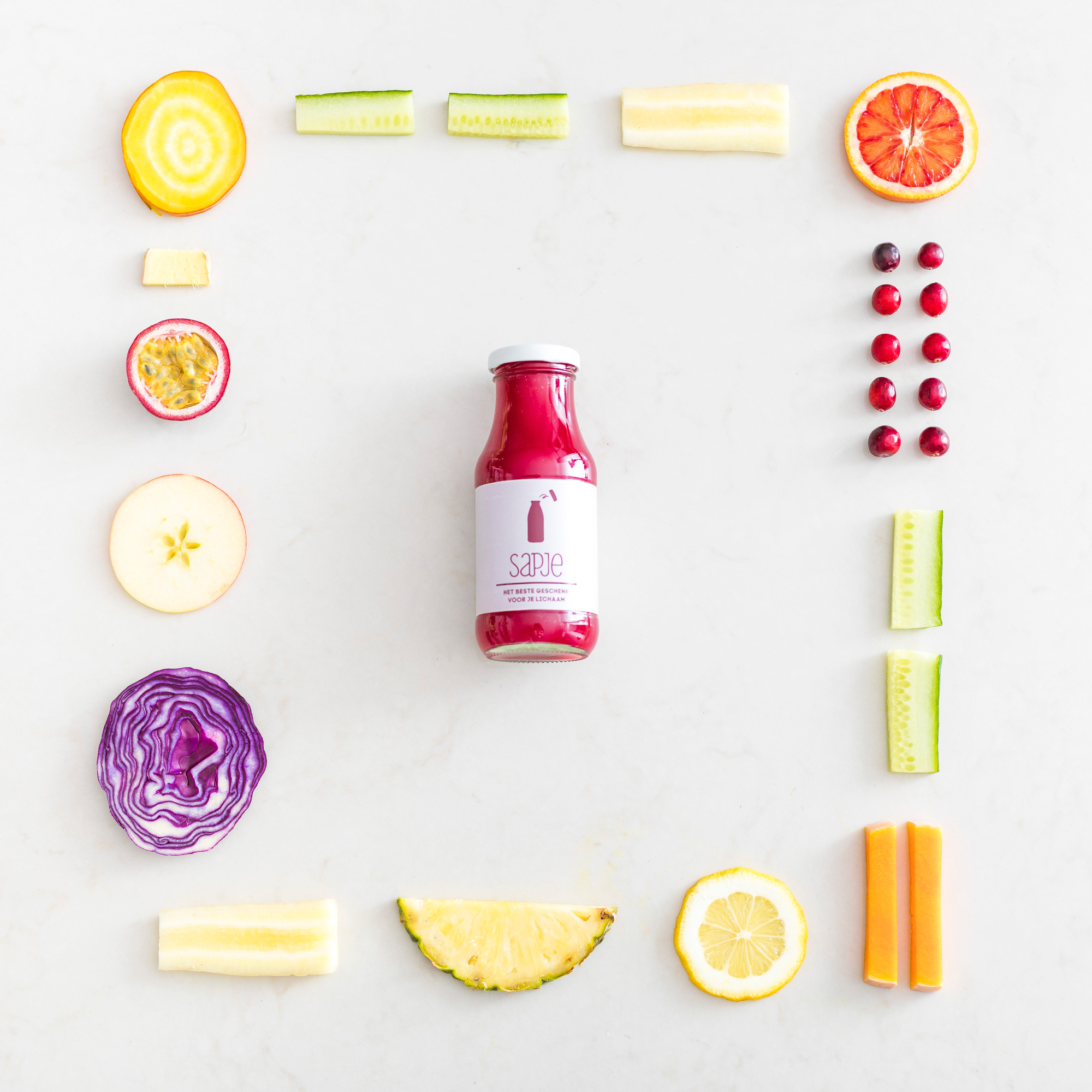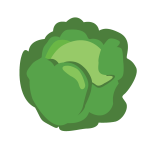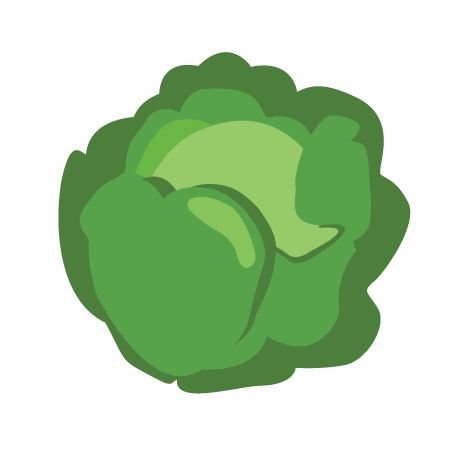 Ron's Juice
by Michelin-starred chef Ron Blaauw
Apple
Beetroot
Cranberry
Cucumber
Lemon
Mint
Orange
Pineapple
Pomegranate
Red cabbage
White carrot
Yellow beet
Ron's juice has been specially composed for us by Michelin star chef Ron Blaauw. Be surprised by a titillating mix of his favorite seasonal vegetables and seasonal fruit. Everything is pure, local, organic and also very tasty!
Ron Blaauw is a Dutch Michelin star chef who has no less than two stars to his name. He became known for his excellent restaurant called Ron Blaauw and for the various gastrobars that bear his name. You may also know Ron Blaauw from the Dutch version of the TV program Top Chef. Since the beginning of Sapje, Ron, together with his family, has been one of our regular customers. As if that wasn't enough honor, he also agreed to our proposal to make our own recipe for organic slow juice vegetable juice especially for Sapje. Ron's juice is the delicious and above all healthy result.
WHAT MAKES RON'S JUICE HEALTHY?
Rons Sapje ​​is freshly made with the slow juicer and every ingredient is 100% organic and local as much as possible. Ron Blaauw put it together with some of his favorite seasonal vegetables, seasonal fruits and spices. As a result, the precise ingredients will vary slightly per season. This is not only environmentally conscious, but also ensures the best taste and the highest nutritional values. In any case, Ron Blaauw's juice always contains his favorite vegetable: the Dutch cabbage. In addition, this surprising juice contains beet, carrot, blood orange, pineapple and passion fruit. Together they make for a tasty health cocktail, which is rich in vitamins, minerals and antioxidants. Vitamin C and vitamin A support your resistance and help maintain healthy skin. Potassium contributes to healthy blood pressure and helps your muscles function properly. Vitamin K supports your blood clotting and the absorption of minerals in your bones. Folic acid is involved in the production of new cells in your body. Because this Ron Blaauw slow juice is immediately frozen after pressing, these and all other valuable nutrients are optimally preserved, and that completely naturally, without preservatives. You will receive Ron's juice frozen at home and enjoy a delicious fresh, organic vegetable juice whenever it suits you!
THE FLAVOUR OF RON'S JUICE
If you let a Michelin star chef like Ron Blaauw make a juice, you can expect something special. As soon as you open a bottle of Ron's juice, a rich palette of scents will meet you. You will probably smell some earthy aromas from the carrot and beetroot, with the tingling, sour scents of lemon and blood orange, among other things. This beautiful mix of light and dark, earthy and sunny is also reflected in the taste. The pineapple and pomegranate provide a tropical touch, while the ginger heats it up even further and makes it a bit spicy. The cucumber, cranberry and lemon provide some fresh coolness and bring the whole into balance. Would you also like to spoil your senses with a vegetable juice of Michelin star quality? Then you should definitely order Ron's juice! "Our juices are an excellent addition as part of a varied, balanced diet and a healthy lifestyle."
Nutrition facts
Nutritional value per 100ml
Energy

46 kcal / 192 kj

Protein

1,1 gr

Fat

0,2 gr

Saturated Fat

<0,1 gr

Carbohydrates

7,9 gr

Natural Sugars

3,3 gr

Salt

<0,1 gr

Food fibres

2,1 gr
Allergy information
contains carrot
Vitamins & minerals
Shown as a percentage of the reference intake (RI).
RI of an average adult is 8400 kJ / 2000 kcal per day.

Potassium

697 mg

Vitamin A

317 μg

Vitamin B1

0.1 mg

Vitamin B2

0.2 mg

Vitamin B3

1.1 mg

Vitamin B5

0.6 mg

Vitamin B6

0.18 mg

Folic acid

53 μg

Vitamin C

57 mg

Vitamin E

0.6 μg

Vitamin K

25 μg

Calcium

48 mg

Phosphorus

64 mg

Iron

1.6 mg

Iodine

3 μg

Copper

0.1 mg

Magnesium

37 mg

Manganese

0.2 mg

Zinc

0.9 mg

K
Potassium
> 35% of RDA
Good for blood pressure, supports normal muscle function and plays an important role in the functioning of the nerves.
A
Vitamin A
> 40% of RDA
Good for vision, and contributes to normal iron metabolism, helps care for the skin from the inside out and has a positive influence on the immune system.
B1
Vitamin B1
> 9% of RDA
Good for the heart, memory and concentration. Has a positive influence on the functioning of the nervous system.
B2
Vitamin B2
> 14% of RDA
Promotes energy metabolism, protects cells and helps reduce fatigue and tiredness.
B3
Vitamin B3
> 7% of RDA
Activates the natural energy in the body. Is important for healthy skin and good for memory. Helps reduce tiredness and fatigue.


B5
Vitamin B5
> 10% of RDA
Supports energy metabolism, helps to reduce fatigue and helps with tension.
B6
Vitamin B6
> 13% of RDA
Is important for the formation of red blood cells, promotes energy metabolism, contributes to the regulation of hormonal activity and helps reduce fatigue.
Fa
Folic acid
> 27% of RDA
Helps the body create and maintain new cells. Folic acid supports, among other things, the production of red and white blood cells.
C
Vitamin C
> 71% of RDA
Supports your immune system and is an antioxidant, which protects against free radicals. Contributes to the formation of collagen, which is important for healthy blood vessels and healthy skin. Contributes to a clear mind and the proper functioning of the nerves.
E
Vitamin E
> 5% of RDA
Is an antioxidant. Helps protect body cells against damage from pollution and sunlight, among other things.
K
Vitamin K
> 33% of RDA
Helps in normal blood clotting. Supports the absorption of minerals into the bone tissue and contributes to the maintenance and maintenance of strong bones.
Ca
Calcium
> 6% of RDA
Supports blood clotting. Helps to keep the skeleton and teeth strong and is good for the muscles. Supports the energy level.
P
Phosphorus
> 9% of RDA
Contributes to the normal functioning of cell membranes and the maintenance of strong bones. Promotes energy metabolism.
Fe
Iron
> 11% of RDA
Supports the normal formation of red blood cells and hemoglobin, contributes to the process of cell renewal, aids the immune system, has a beneficial effect on normal oxygen transport in the body and keeps the mind clear.
I
Iodine
> 2% of RDA
Contributes to normal thyroid hormone production and thyroid function.
Cu
Copper
> 10% of RDA
Supports iron transport in the body, is good for the nervous and immune systems and helps protect body cells.
Mg
Magnesium
> 10% of RDA
Helps maintain strong bones, contributes to a good electrolyte balance and is good for concentration.
Mn
Manganese
> 10% of RDA
Important for the normal formation of connective tissue in cartilage and bones, is good for the skeleton and works to protect against free radicals.
Zn
Zinc
> 9% of RDA
Is conducive to concentration, good for hair and nails and helps to keep the skin healthy.
Ron's Juice reviews
Mijn favoriet

Dit sapje bestel ik standaard bij iedere bestelling. Zo heerlijk!

Tasha from Putten on 8 July 2021