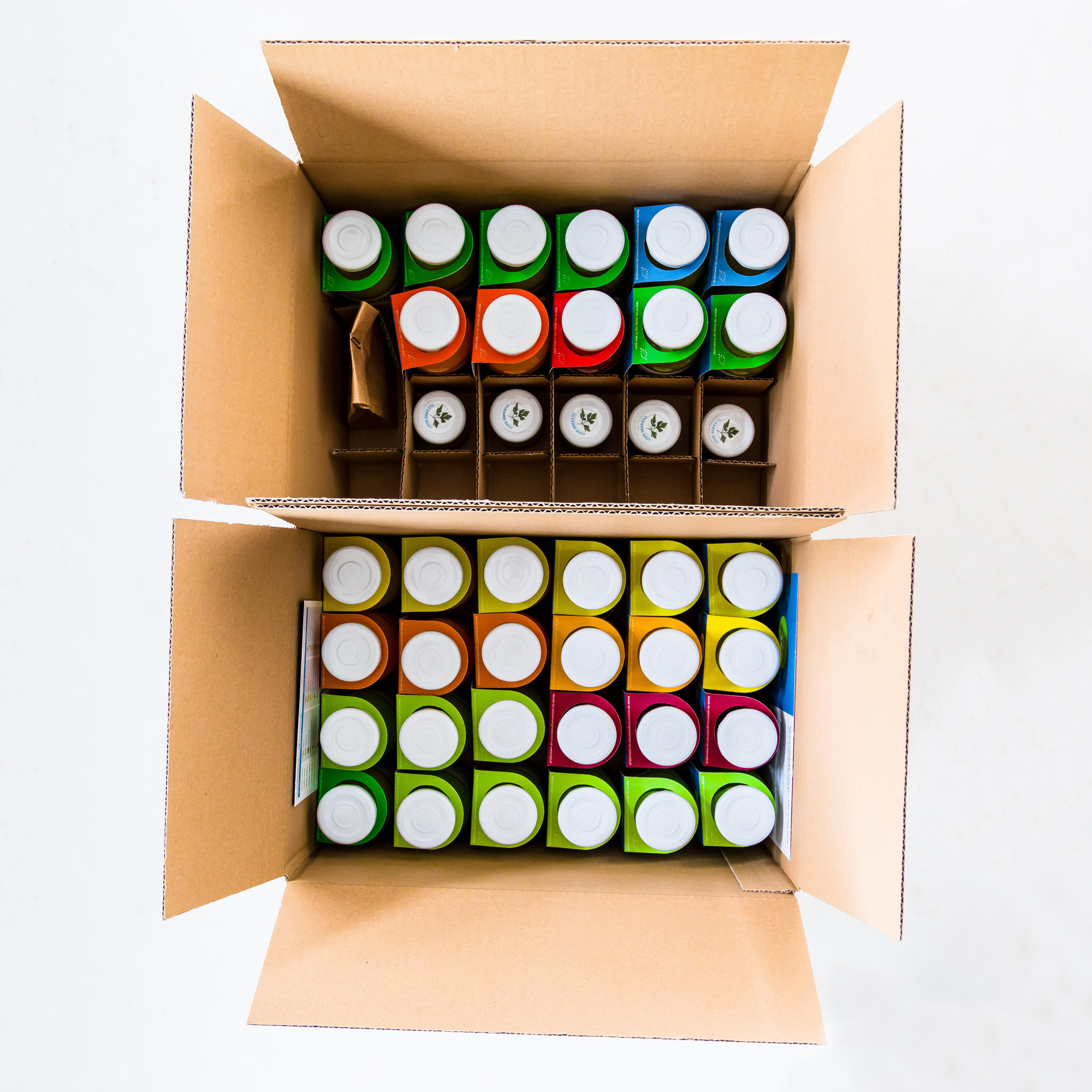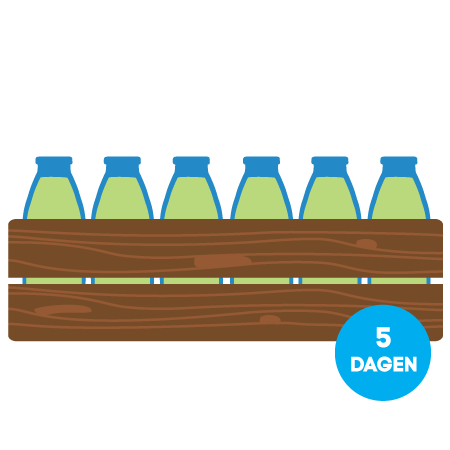 5 day juice cleanse
Over 15 kilos of vegetables!
Content: 30 juices | 5 shots | 5 soups | tea
With a Juice cleanse, you support your body and mind. During the 5-day Juice cleanse, you only drink organic vegetable juice, vegetable soup, concentrated shots and herbal teas. During our cleanse we recommend that you stop any existing unhealthy habits. This way, you can naturally cleanse your body.
BENEFITS OF A JUICE CLEANSE
Body cleansing
Taking an occasional Juice cleanse of 5 days or more can be seen as part of a healthy and balanced lifestyle. With our Juice cleanse, you support the organs that cleanse your body, such as your liver, kidneys and intestines. Just as you need to clean the filters of your car regularly to keep the performance as good as possible, a cleanse can give these 'filters' of your body a clean-up.
During a Sapje Juice cleanse, you have to let go of unhealthy habits that burden your health. You must stop smoking, drinking alcohol or coffee and eating unhealthy food during your cleanse. Ideally, you should start reducing these habits 3 days before the juice cleanse starts. As a result, your body will not process toxic substances for at least 3 days and your liver, kidneys and intestines can start cleansing themselves before you even start the juice cleanse. You can view a Juice cleanse as a way to support the health of your body.
Juice cleanse benefits
Even if you have been eating super healthy for years, a Juice cleanse has benefits for your body. It gives you time to reset, which gives you renewed perspective on healthy eating. This effect is enhanced by the large amounts of vitamins, minerals and antioxidants in our juices. During a 5-day Juice cleanse, you will get the nutrients of more than 15 kilos of raw, organic vegetables, fruit, herbs, spices and seaweed! The best part is that they are extra easy to absorb once they have been pressed with the Slowjuicer into vegetable juice.
A Juice cleanse can contribute to the following, among other things:
A stronger immune system
Increased energy
Improved digestion
A clear mind
More beautiful skin
Improved sleep
A healthier weight
A mental reset to continue a healthy lifestyle
Read more about the health benefits of our Juice cleanse here.
Lose weight with the Juice cleanse
Losing weight is not the reason you should do a juice cleanse, but it is a very common advantage. You will lose weight because you are drinking pure vegetables and fruit and nothing else. There are no fats or added sugars and the amount of energy you are consuming is significantly less than if you were continuing with your normal diet. It is impossible to predict how much weight you will lose, but women who tried our Juice cleanse lost an average of 300-600 grams a day. Men lost an average of 400-700 grams a day. It is normal for you to gain some of the lost weight back after your start eating your normal foodt again. But the most important part of this all is that you lose weight, feel great and want to continue eating healthy after you are done with the cleanse. Your mind and body have had a reset. This is especially convenient after the holidays. If you decide to order our Juice cleanse, you will receive a digital manual and a delicious menu to prepare yourself 3 days before you start and 3 days after you finish the cleanse.
Do you also want to change your lifestyle and eat healthier? Would you like to take extra good care of your body and boost your immune system? Then ordering our 5-day Juice cleanse is a great start!
Contents of our 5 day Juice cleanse:
30 organic Slowjuice vegetable juices (240 ml)
5 organic Slowjuice detoxifying shots (50 ml)
5 organic vegetable soups (470 ml)
Organic herbal tea
A detailed explanation of the preparation
A healthy menu for the pre- and aftertox
Nutrition facts
Nutritional value per 1 day juice cleanse
Energy

600 Kcal

Protein

20 gr

Fat

5.1 gr

Saturated Fat

1 gr

Carbohydrates

141 gr

Natural Sugars

21 gr

Salt

2.8 gr

Food fibres

27 gr
Allergy information
contains celery & carrot
Vitamins & minerals
who are richly represented in the detox cleanse (based on 1 day).

Potassium

5709 mg

Vitamin A

4585 μg

Vitamin B1

1 mg

Vitamin B2

1.1 mg

Vitamin B3

9.2 mg

Vitamin B5

4.3 mg

Vitamin B6

2 mg

Folic acid

607 μg

Vitamin C

428 mg

Vitamin E

9.2 μg

Vitamin K

1727 μg

Calcium

2819 mg

Choline

168 mg

Phosphorus

602 mg

Iron

19.4 mg

Iodine

197 μg

Copper

1.4 mg

Magnesium

247 mg

Manganese

3.6 mg

Zinc

6.3 mg

K
Potassium
> 285% of RDA
Good for blood pressure, supports normal muscle function and plays an important role in the functioning of the nerves.
A
Vitamin A
> 573% of RDA
Good for vision, and contributes to normal iron metabolism, helps care for the skin from the inside out and has a positive influence on the immune system.
B1
Vitamin B1
> 91% of RDA
Good for the heart, memory and concentration. Has a positive influence on the functioning of the nervous system.
B2
Vitamin B2
> 79% of RDA
Promotes energy metabolism, protects cells and helps reduce fatigue and tiredness.
B3
Vitamin B3
> 58% of RDA
Activates the natural energy in the body. Is important for healthy skin and good for memory. Helps reduce tiredness and fatigue.


B5
Vitamin B5
> 72% of RDA
Supports energy metabolism, helps to reduce fatigue and helps with tension.
B6
Vitamin B6
> 143% of RDA
Is important for the formation of red blood cells, promotes energy metabolism, contributes to the regulation of hormonal activity and helps reduce fatigue.
Fa
Folic acid
> 304% of RDA
Helps the body create and maintain new cells. Folic acid supports, among other things, the production of red and white blood cells.
C
Vitamin C
> 535% of RDA
Supports your immune system and is an antioxidant, which protects against free radicals. Contributes to the formation of collagen, which is important for healthy blood vessels and healthy skin. Contributes to a clear mind and the proper functioning of the nerves.
E
Vitamin E
> 77% of RDA
Is an antioxidant. Helps protect body cells against damage from pollution and sunlight, among other things.
K
Vitamin K
> 2303% of RDA
Helps in normal blood clotting. Supports the absorption of minerals into the bone tissue and contributes to the maintenance and maintenance of strong bones.
Ca
Calcium
> 352% of RDA
Supports blood clotting. Helps to keep the skeleton and teeth strong and is good for the muscles. Supports the energy level.
Ch
Choline
> 204% of RDA
Supports the cleansing effect of the liver. Contributes to the production and breakdown of homocysteine. Helps maintain the structure of cell membranes.
P
Phosphorus
> 86% of RDA
Contributes to the normal functioning of cell membranes and the maintenance of strong bones. Promotes energy metabolism.
Fe
Iron
> 139% of RDA
Supports the normal formation of red blood cells and hemoglobin, contributes to the process of cell renewal, aids the immune system, has a beneficial effect on normal oxygen transport in the body and keeps the mind clear.
I
Iodine
> 131% of RDA
Contributes to normal thyroid hormone production and thyroid function.
Cu
Copper
> 140% of RDA
Supports iron transport in the body, is good for the nervous and immune systems and helps protect body cells.
Mg
Magnesium
> 66% of RDA
Helps maintain strong bones, contributes to a good electrolyte balance and is good for concentration.
Mn
Manganese
> 180% of RDA
Important for the normal formation of connective tissue in cartilage and bones, is good for the skeleton and works to protect against free radicals.
Zn
Zinc
> 63% of RDA
Is conducive to concentration, good for hair and nails and helps to keep the skin healthy.
5 day juice cleanse reviews
Heel tevreden!

De bezorging is stipt op de verwachte tijd en de kwaliteit is uitstekend. Ongelofelijk hoeveel zorg en aandacht er wordt aan deze kuur.

Caroline from Zutphen on 8 July 2021

Echt de moeite waard!

Ik had eerlijk gezegd niet verwacht dat ik met zo veel energie uit mijn kuur zou komen. Het heeft geholpen met afvallen en fitter worden. Echt heel blij mee!! Zeker een aanrader!

Emma from Den Haag on 8 July 2021

Kon iedereen dit maar ervaren

1 en al lof over deze detox kuur + de sapjes. Ze zijn geweldig van smaak. Ik voelde me wonderwoman!

Esther from Strijen on 1 July 2021

De detox kuur 5 dagen is een echte aanrader!

Ik heb veel andere aanbieders vergeleken, zoals DrBlend, Juisz, Juicebro, DrVeggie en Frecious. Maar uiteindelijk heb ik toch voor de detox kuur 5 dagen van Sapje gekozen. Op Google zag ik al dat Sapje de hoogste beoordeling van allemaal heeft. Daarnaast spreekt de authentieke en persoonlijke uitstraling van Sapje mij erg aan. Na de 5 dagen kuur te hebben gedaan, voelde ik mij kiplekker en gezond. De volgende keer wil de lat ietsje hoger leggen en ga ik denk ik voor de 7-daagse kuur van Sapje!

Tanja from Eindhoven on 30 June 2021