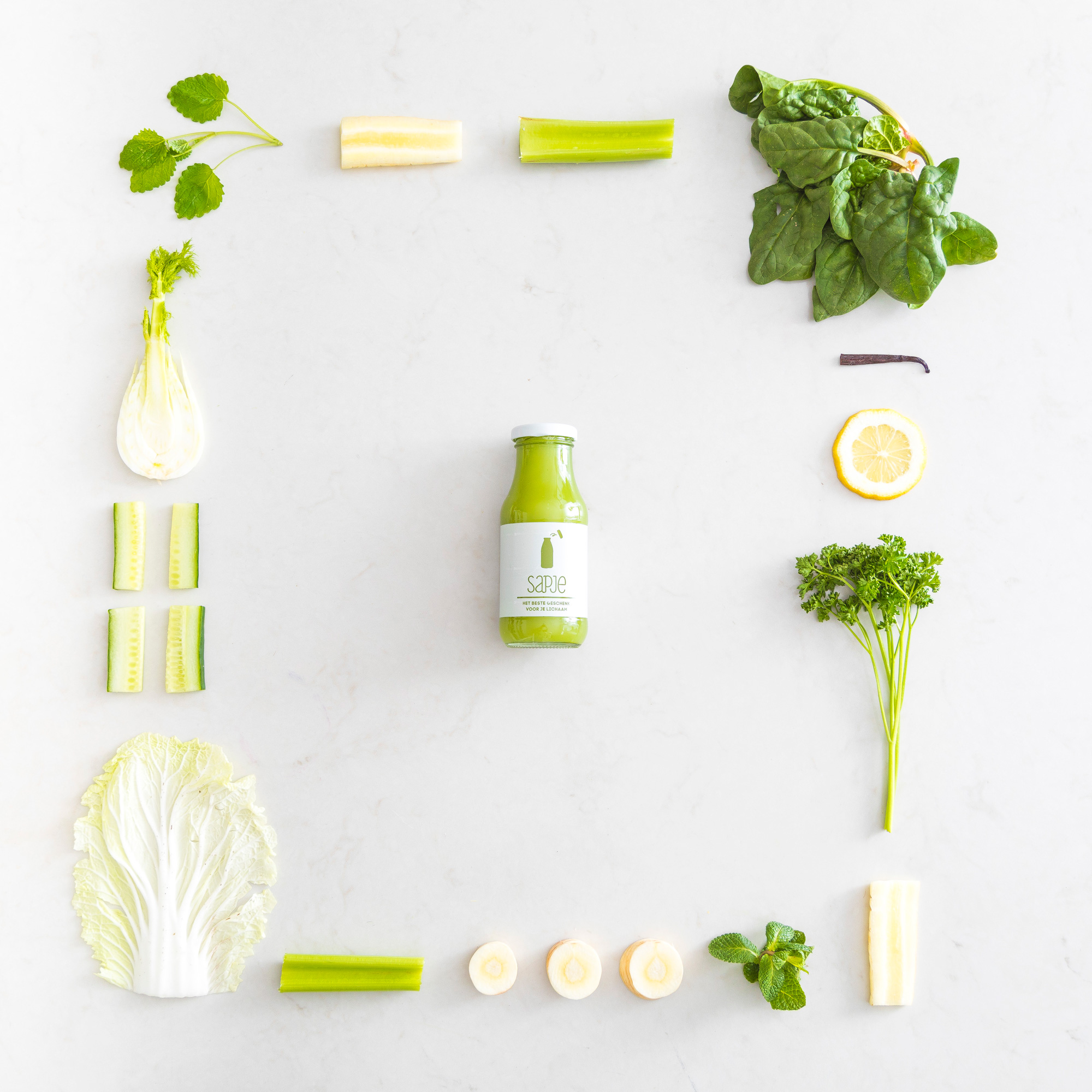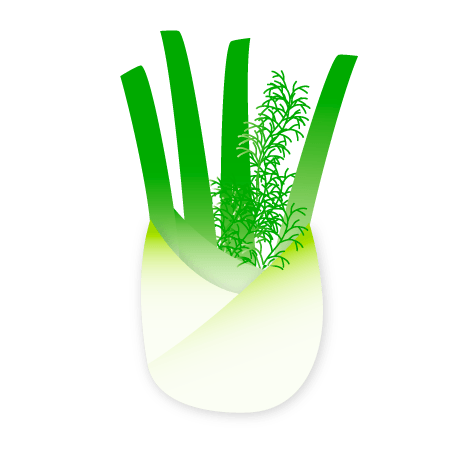 Fuel
Healthy cucumber juice with 97% vegetables!
Cucumber
White carrot
Spinach
Fennel
Parsnip
Celery
Chinese cabbage
Lemon
Mint
Parsley
Stevia leaf
Vanilla
Content: 240 ml
Fuel cucumber juice is the perfect fuel for the body and mind. This super green and fresh juice hydrates, cleanses, protects and gives new energy. It is low in calories but rich in vitamins, minerals and antioxidants.
Never knew fuel could be green? Time to meet our FUEL cucumber juice! It consists of no less than 97% vegetables, herbs and spices and is our very greenest juice. Lemon is the only fruit in it. Maybe you already know that cucumber juice has benefits for your health. For example, it is rich in electrolytes and is, therefore, very hydrating. Moreover, it has a purifying effect and is full of vitamins and minerals. With FUEL, we wanted to make cucumber juice that exceeds all expectations in terms of both taste and health. That's why we decided to add celery, fennel, spinach and mint to the recipe for this cucumber juice. For an extra surprise effect and a better taste, we also put some parsley, vanilla and stevia leaf in the slowjuicer. The result is a green vitamin cocktail you won't easily forget!
WHAT MAKES CUCUMBER JUICE HEALTHY?
Maybe you're wondering what makes cucumber juice so healthy? Most people know that cucumber consists of 95% water and think it has nothing more to offer than a nice fresh taste, but nothing could be further from the truth. Drinking cucumber juice means treating your body and mind to a nice dose of vitamin K, A, C, various B vitamins, potassium, folic acid, manganese and calcium. This makes our Fuel cucumber juice good for blood clotting and bones (vitamin K), great for your skin, hair and immune system (vitamins A & C), also good for your blood pressure and muscles (potassium and calcium) and, it promotes the production of new cells (folic acid). In addition, our Slowjuice cucumber juice is good for your energy levels and concentration, due to the presence of various B vitamins. The addition of even more organic vegetables, herbs and spices in the slowjuicer increases the amount of nutrients in our cucumber juice even further. The Fuel juice also contains many antioxidants, which protect your cells against free radicals. This super green cucumber juice is also rich in electrolytes. These are important for removing toxins from your system, regulating the moisture balance in your body and allowing your muscles to function properly. That's why drinking this cucumber juice is good for optimizing your physical balance before or after exercise. Would you like to try a sports drink without sugars or other unnatural flavours? Then, buy our cucumber juice!
THE FLAVOUR OF OUR CUCUMBER JUICE
This cucumber juice is wholesome and tastes healthy. As you would expect from cucumber juice, our Fuel juice with cucumber, celery and spinach tastes very green, fresh and invigorating. The mint and lemon provide a zesty sensation, while fennel, vanilla and green stevia leaves add a sweet touch. White carrot and parsnip make it a little creamier and firmer, while Chinese cabbage and parsley bring a slightly sharp and bitter note. You may have to get used to this special flavour combination, but the energy you get from it makes drinking this cucumber juice worthwhile!
Nutrition facts
Nutritional value per 100ml
Energy

39 kcal / 163 kj

Protein

2,0 gr

Fat

0,5 gr

Saturated Fat

<0,1 gr

Carbohydrates

4,7 gr

Natural Sugars

1,9 gr

Salt

<0,1 gr

Food fibres

2,9 gr
Allergy information
contains carrot & celery
Vitamins & minerals
These are richly represented in our cucumber juice:

Potassium

818 mg

Vitamin A

713 μg

Vitamin B1

0.36 mg

Vitamin B2

0.28 mg

Vitamin B3

2.1 mg

Vitamin B5

0.9 mg

Vitamin B6

0.3 mg

Folic acid

164 μg

Vitamin C

38 mg

Vitamin E

1.6 μg

Vitamin K

389 μg

Calcium

402 mg

Fluoride

0.2 mg

Phosphorus

129 mg

Iron

3.8 mg

Iodine

1 μg

Copper

0.2 mg

Magnesium

69 mg

Manganese

1 mg

Zinc

1.8 mg

K
Potassium
> 41% of RDA
Good for blood pressure, supports normal muscle function and plays an important role in the functioning of the nerves.
A
Vitamin A
> 89% of RDA
Good for vision, and contributes to normal iron metabolism, helps care for the skin from the inside out and has a positive influence on the immune system.
B1
Vitamin B1
> 33% of RDA
Good for the heart, memory and concentration. Has a positive influence on the functioning of the nervous system.
B2
Vitamin B2
> 20% of RDA
Promotes energy metabolism, protects cells and helps reduce fatigue and tiredness.
B3
Vitamin B3
> 13% of RDA
Activates the natural energy in the body. Is important for healthy skin and a good memory. Helps reduce fatigue and tiredness.


B5
Vitamin B5
> 15% of RDA
Supports energy metabolism, helps to reduce fatigue and helps with tension.
B6
Vitamin B6
> 21% of RDA
Important for the formation of red blood cells, promotes energy metabolism, contributes to the regulation of hormonal activity and helps reduce fatigue.
Fa
Folic acid
> 82% of RDA
Helps the body create and maintain new cells. Sufficient folic acid is particularly important for the formation of red blood cells.
C
Vitamin C
> 48% of RDA
Supports your immune system and is an anti-oxidant, protecting it against free radicals. Contributes to the formation of collagen, which is important for healthy blood vessels and beautiful skin. Is important for a well-functioning mind and the optimal functioning of the nerves.
E
Vitamin E
> 13% of RDA
An antioxidant that strengthens the immune system. Helps protect body cells from damage caused by pollution and sunlight, among other things.
K
Vitamin K
> 519% of RDA
Promotes blood clotting. Supports the absorption of minerals in bone tissue and contributes to the formation and maintenance of strong bones.
Ca
Calcium
> 50% of RDA
Promotes blood clotting. Helps to keep skeleton and teeth strong and is good for muscles. Helps energy levels.
F-
Fluoride
> 6% of RDA
Contributes to strong teeth and supports the mineral balance in tooth enamel.
P
Phosphorus
> 18% of RDA
Contributes to the normal functioning of cell membranes and the maintenance of strong bones. Promotes energy metabolism.
Fe
Iron
> 27% of RDA
Supports the formation of red blood cells and haemoglobin, contributes to the process of cell renewal, helps the immune system, has a beneficial effect on normal oxygen transport in the body and keeps the mind clear.
I
Iodine
> 1% of RDA
Contributes to normal thyroid hormone production and thyroid function.
Cu
Copper
> 20% of RDA
Supports iron transport in the body, is good for the nervous and immune systems and helps protect body cells.
Mg
Magnesium
> 18% of RDA
Helps maintain strong bones, contributes to a good electrolyte balance and is good for concentration.
Mn
Manganese
> 50% of RDA
Important for the normal formation of connective tissue in cartilage and bones, is good for the skeleton and works to protect against free radicals.
Zn
Zinc
> 18% of RDA
Is conducive to concentration, good for hair and nails and helps to keep the skin healthy.