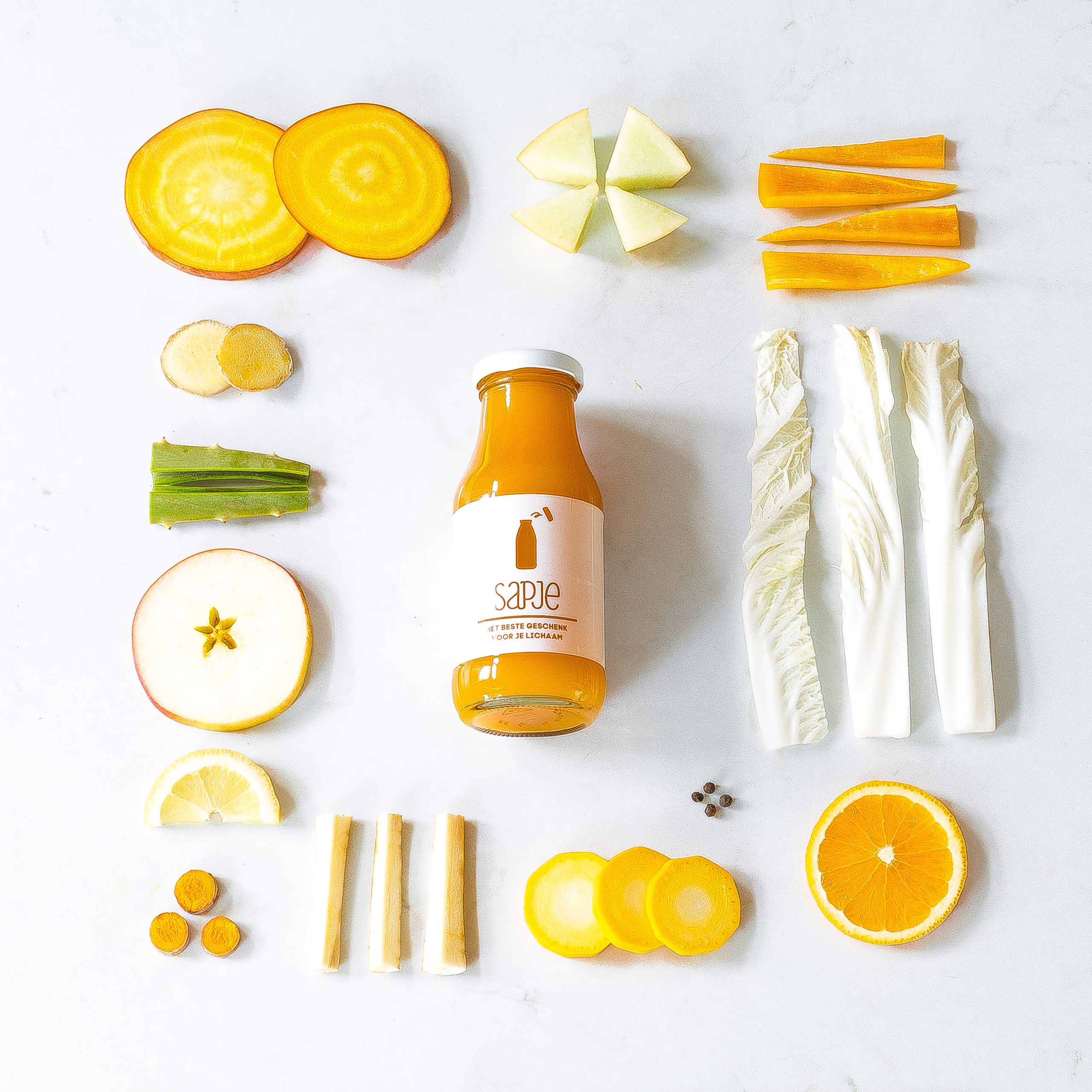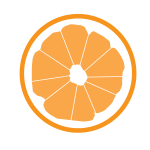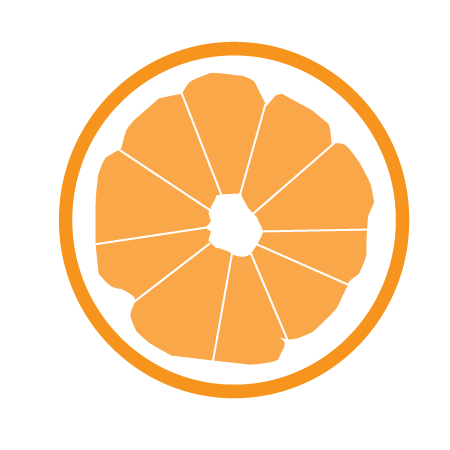 Sunny
Rich in Vitamin C
Aloë vera
Black pepper
Ginger
Granny Smith apple
Lemon
Orange
Parsnip
Turmeric
White carrot
Yellow beet
Yellow bell pepper
This sunny Sunny Juice without additives consists only of natural ingredients. It is full of vitamins, minerals and antioxidants. Due to the high content of vitamin C, this summer juice supports your immune system and energy levels, among other things, and helps to keep your skin healthy.
With the Sunny juice full of yellow vegetables such as yellow carrot, yellow beet, yellow pepper, fruits and spices, you can bring the summer into your home. Even if it's a gloomy day, this organic sunny juice is sure to lift your mood. It is rich in vitamins and minerals that support your resistance and help reduce fatigue, such as vitamin C. With this juice you get your daily dose of vitamin C in one go. Unlike many other types of vitamin juices, Sunny is completely natural, without additives such as powders and without added sugars or sweeteners. The sweet and sour taste with warm, earthy undertones gives you a big boost. Pure and organic juice can be so tasty!
WHAT IS VITAMIN C JUICE GOOD FOR?
Vitamin C is an important nutrient that many people like to get a little extra from. This vitamin supports your resistance, among other things. Because it is also an antioxidant, vitamin C protects your body cells against free radicals. In addition, vitamin C is good for your skin, because this substance plays a role in the production of collagen. In addition, this vitamin contributes to a clear mind and a well-functioning nervous system. You can find vitamin C in fruits such as citrus fruits, as well as in various vegetables. Yellow bell pepper is one of the richest sources of natural vitamin C and should therefore not be missing in this juice. Our juice is also enriched with other healthy ingredients, such as turmeric, ginger and black pepper. In addition, bright yellow juice is also rich in potassium, vitamin K, manganese and folic acid.
THE FLAVOUR OF SUNNY VITAMIN C JUICE
This bright yellow juice smells as summery as it looks. When you take the cap off the bottle, the scents of orange and lemon meet you. When we make the juice, we squeeze the essential oil from the peels of these fruits with the slow juicer. Its scent transports you to a warm citrus grove on the Mediterranean Sea. You almost don't need a holiday anymore! When you take a sip of the juice, you will taste some earthy flavors in addition to sweet and sour citrus fruits. They come from the yellow beet and carrot. Meanwhile, the Chinese cabbage and yellow pepper provide a fresh yet savory undertone. The finish is warm and powerful due to the addition of turmeric, ginger, black pepper and fresh aloe vera leaf. This makes this juice a complex health cocktail that makes you happy! "Our juices are an excellent addition as part of a varied, balanced diet and a healthy lifestyle."
Nutrition facts
Nutritional value per 100ml
Energy

41 kcal/ 171 kj

Protein

1,1 gr

Fat

0,3 gr

Saturated Fat

<0,1 gr

Carbohydrates

6,1 gr

Natural Sugars

5,2 gr

Salt

<0,1 gr

Food fibres

1,2 gr
Allergy information
none
Vitamins & minerals
Shown as a percentage of the reference intake (RI).
RI of an average adult is 8400 kJ / 2000 kcal per day.

Potassium

947 mg

Vitamin A

217 μg

Vitamin B1

0.13 mg

Vitamin B2

0.1 mg

Vitamin B3

1.6 mg

Vitamin B5

0.5 mg

Vitamin B6

0.26 mg

Folic acid

98 μg

Vitamin C

93 mg

Vitamin E

1.5 μg

Vitamin K

36 μg

Calcium

128 mg

Phosphorus

87 mg

Iron

1.9 mg

Iodine

5 μg

Copper

0.2 mg

Magnesium

36 mg

Manganese

0.6 mg

Zinc

0.8 mg

K
Potassium
> 47% of RDA
Good for blood pressure, supports normal muscle function and plays an important role in the functioning of the nerves.
A
Vitamin A
> 27% of RDA
Good for vision, and contributes to normal iron metabolism, helps care for the skin from the inside out and has a positive influence on the immune system.
B1
Vitamin B1
> 12% of RDA
Good for the heart, memory and concentration. Has a positive influence on the functioning of the nervous system.
B2
Vitamin B2
> 7% of RDA
Promotes energy metabolism, protects cells and helps reduce fatigue and tiredness.
B3
Vitamin B3
> 10% of RDA
Activates the natural energy in the body. Is important for healthy skin and good for memory. Helps reduce tiredness and fatigue.


B5
Vitamin B5
> 8% of RDA
Supports energy metabolism, helps to reduce fatigue and helps with tension.
B6
Vitamin B6
> 19% of RDA
Is important for the formation of red blood cells, promotes energy metabolism, contributes to the regulation of hormonal activity and helps reduce fatigue.
Fa
Folic acid
> 49% of RDA
Helps the body create and maintain new cells. Folic acid supports, among other things, the production of red and white blood cells.
C
Vitamin C
> 116% of RDA
Supports your immune system and is an antioxidant, which protects against free radicals. Contributes to the formation of collagen, which is important for healthy blood vessels and healthy skin. Contributes to a clear mind and the proper functioning of the nerves.
E
Vitamin E
> 13% of RDA
Is an antioxidant. Helps protect body cells against damage from pollution and sunlight, among other things.
K
Vitamin K
> 48% of RDA
Helps in normal blood clotting. Supports the absorption of minerals into the bone tissue and contributes to the maintenance and maintenance of strong bones.
Ca
Calcium
> 16% of RDA
Supports blood clotting. Helps to keep the skeleton and teeth strong and is good for the muscles. Supports the energy level.
P
Phosphorus
> 12% of RDA
Contributes to the normal functioning of cell membranes and the maintenance of strong bones. Promotes energy metabolism.
Fe
Iron
> 14% of RDA
Supports the normal formation of red blood cells and hemoglobin, contributes to the process of cell renewal, aids the immune system, has a beneficial effect on normal oxygen transport in the body and keeps the mind clear.
I
Iodine
> 3% of RDA
Contributes to normal thyroid hormone production and thyroid function.
Cu
Copper
> 20% of RDA
Supports iron transport in the body, is good for the nervous and immune systems and helps protect body cells.
Mg
Magnesium
> 10% of RDA
Helps maintain strong bones, contributes to a good electrolyte balance and is good for concentration.
Mn
Manganese
> 30% of RDA
Important for the normal formation of connective tissue in cartilage and bones, is good for the skeleton and works to protect against free radicals.
Zn
Zinc
> 8% of RDA
Is conducive to concentration, good for hair and nails and helps to keep the skin healthy.
Sunny reviews
Heerlijk

Sapje doet mij denken aan de zomer een smaak explosie

Suzan from amsterdam on 8 July 2021