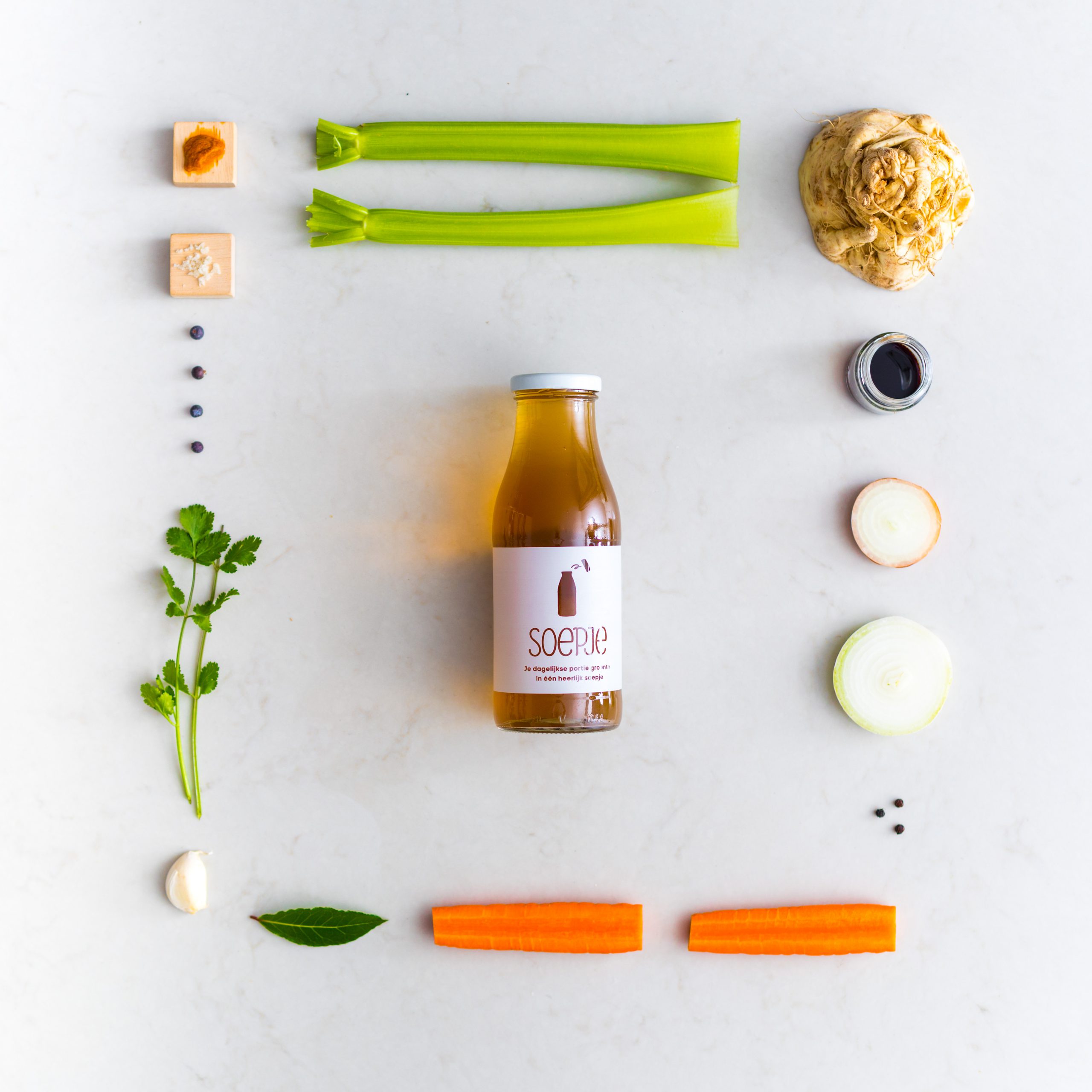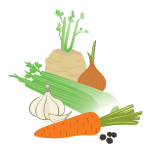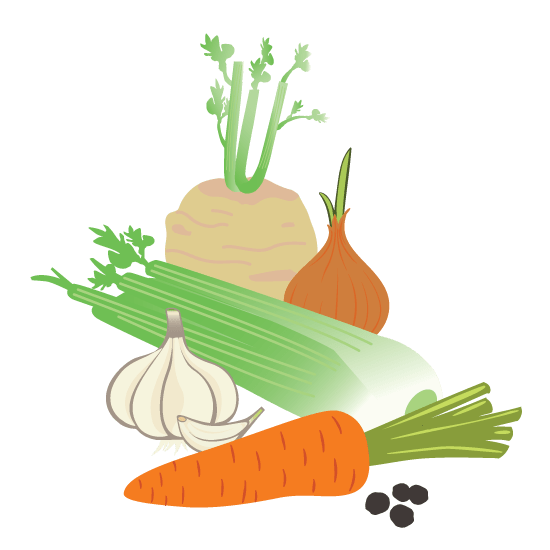 Vegetable broth
Homemade vegetable broth
Vegetable broth* (water, celeriac*, celery*, carrot*, onion*, garlic*, bay leaf*, pepper*, coriander*, juniper berries*)
Tamari* (soybeans*, water, sea salt, shochu* (water, rice*, salt, koji ferment)
Shiro miso* (soy*, brown rice*, water, sea salt, koji ferment*)
Sea salt
Our homemade vegetable broth is made from the purest ingredients for 24 hours. The fresh vegetables and herbs, together with the fermented ingredients shiro miso and tamari, provide a delicious and rich umami taste. This unique vegetable broth is great to start your day or enjoy at any other time of the day to warm up your body. We do not use powders, cubes or other unnatural additives for our traditional stock.
What makes our vegetable broth so special?
As far as we're concerned, broth should be a regular part of someone's diet more often. The power of long-drawn broth is still often underestimated. We let our vegetable broth steep for 24 hours, so that as many flavors and nutrients as possible from the ingredients get into the stock. Because we only combine fresh vegetables and herbs with powerful Japanese fermented seasonings, the broth is 100% natural and delivers a profound taste sensation. You can enjoy this delicious broth at any time of the day. A cup of broth in the morning is a great way to start the day. You immediately warm up your body and you are ready to go again. Drinking a broth at any other time of the day is also a great way to warm up and 'reset'. We also use this artisanal stock in our healthy soups, which makes them extra pure and tasty.
Taste of our vegetable broth
The unique combination of ingredients in this broth provides a delicious and rich taste. The fresh vegetables and herbs, including celeriac, carrot, garlic, bay leaf, coriander and juniper berries, give the stock a spicy character. In addition to these fresh ingredients, our stock also contains shiro miso and tamari. These two traditional Japanese seasonings give the broth an extra dimension. Shiro miso is a fermented soybean paste, which is enriched with koji (a good fungus). Tamari is a gluten-free sauce and is obtained when making the miso paste. Unlike standard soy sauce, no wheat is used in making tamari. Both the shiro miso and the tamari add a wonderful umami flavor to the stock, making it really different from standard broths.
Nutrition facts
Nutritional value per 100ml
Energy

9 kcal / 39 kj

Protein

0,8 gr

Fat

0,1 gr

Saturated Fat

0,0 gr

Carbohydrates

0,9 gr

Natural Sugars

0,4 gr

Salt

0,5 gr

Food fibres

0,1 gr
Allergy information
contains celery & soy
Vegetable broth reviews