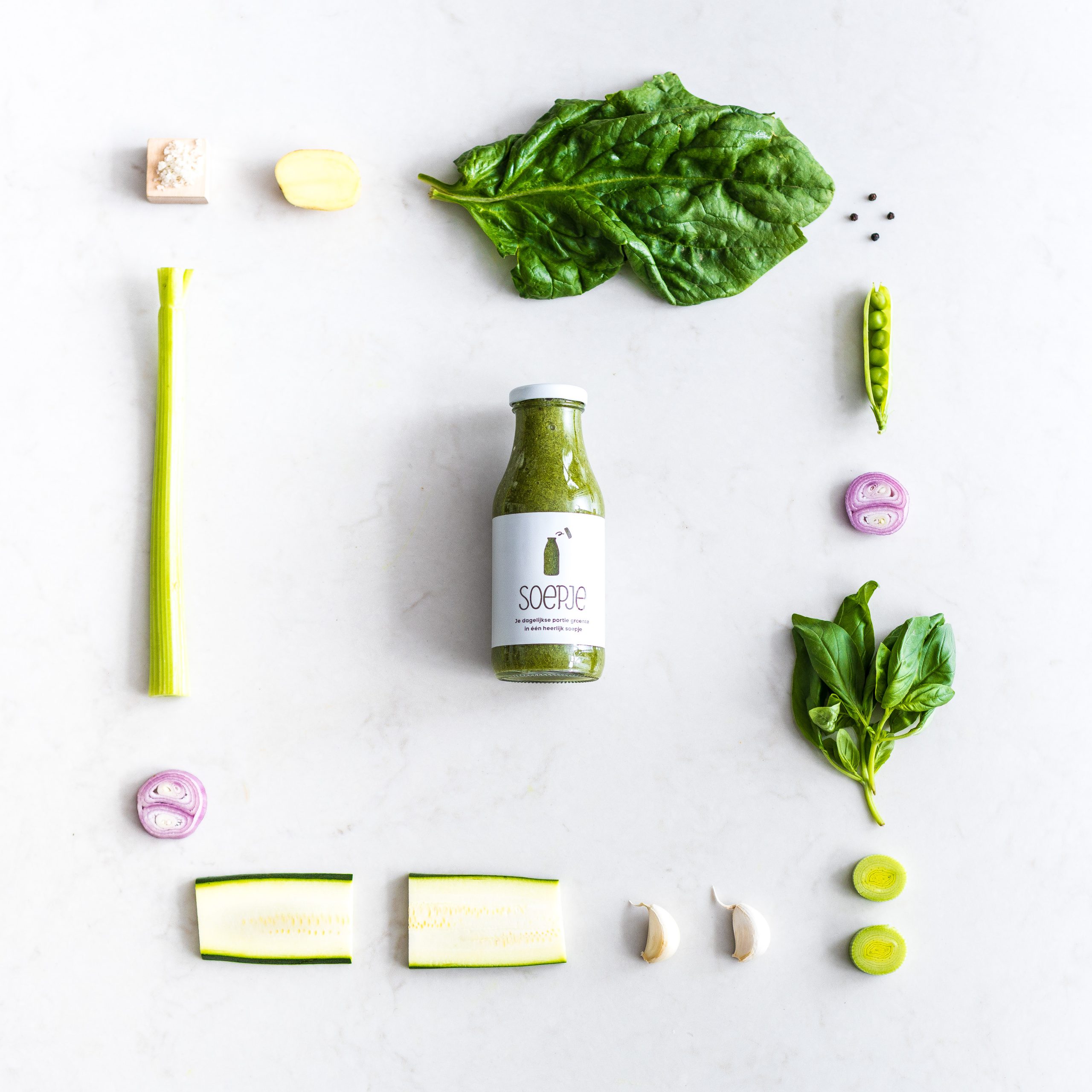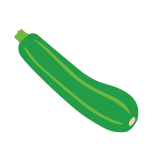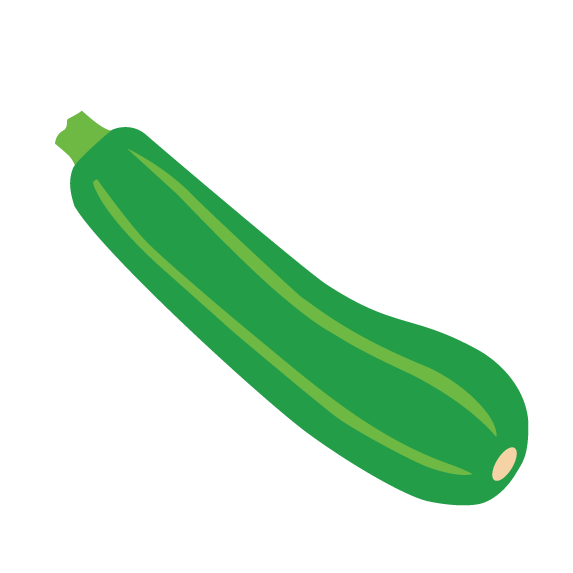 Zucchini soup
Supports your immune system*
Black pepper
Coconut milk
Extra virgin olive oil
Fennel seed
Koriander
Purified water
Red onion
Sea salt
Shiro miso* (soy*, brown rice*, water, sea salt, koji ferment*)
Spinach
Tamari* (soybeans*, water, sea salt, shochu* (water, rice*, salt, koji ferment)
Zucchini
Our organic zucchini soup is a real vitamin cocktail and rich in antioxidants, such as copper and manganese. With the high levels of beta-carotene (provitamin A) and vitamin C, you also do your immune system a big favor*. This green detox soup is also part of our detox cure and for good reason. The powerful blend of fresh vegetables, spices and fermented ingredients helps support your health. In addition to being healthy, this soup is also delicious!
You may have known for a long time that organic zucchini soup is healthy. This soup is rich in healthy nutrients and is bursting with vitamin C, for example, so that it supports your immune system. This soup is also rich in antioxidants, such as manganese and copper. By enriching the recipe for our organic zucchini soup with spinach, red onion and the fermented Japanese seasonings shiro miso, tamari and shochu, we made this soup extra tasty and healthy.
WHAT MAKES OUR ORGANIC ZUCCHINI SOUP HEALTHY?
When making our Organic Zucchini Soup, we use nothing but fresh vegetables, spices, coconut milk, extra virgin olive oil, a pinch of sea salt and traditional Japanese seasonings made from fermented soybeans and brown rice. This delicious zucchini soup is so healthy because all the ingredients are rich in natural vitamins, minerals and antioxidants. The spinach alone provides a nice dose of vitamin A, vitamin K, potassium and folic acid. Zucchini increases the vitamin C content in our organic soup. Vitamins C and A are both known for their positive influence on the immune system. They also contribute to maintaining healthy skin. Vitamin C is also an antioxidant, which helps protect your body against free radicals. Our organic zucchini soup also contains many other antioxidants, such as vitamin E, manganese, copper and zinc. Due to the abundance of healthy nutrients, this zucchini soup is also a good detox soup recipe to use if you want to offer your body extra support. Of course, this green detox soup is also part of our detox cure. Eating this organic soup is therefore a good and easy way to help your body stay fit and healthy. Because we make the zucchini soup from the best fresh, local and seasonal ingredients as much as possible, you can count on a high nutritional value and rich taste. Because we freeze our organic soup, we don't need to use preservatives. As a result, the freshness and nutrients are optimally preserved.
THE FLAVOUR OF OUR ORGANIC ZUCCHINI SOUP
Our organic zucchini soup stands out because of its light green creamy color. As soon as you open the bottle, you can immediately smell the zucchini, coconut milk, spices and a hint of red onion. The mild taste of the zucchini and spinach is supported by the rich flavors of the shiro miso, tamari and shochu. The coconut milk provides a wonderfully creamy accent. Red onion makes the zucchini soup even tastier. A pinch of sea salt and black pepper finish it off and provide some extra spice. With its high nutritional value and pure ingredients, our organic zucchini soup also fits well in a vegan diet.
"Our soups are an excellent addition as part of a varied, balanced diet and a healthy lifestyle."
Nutrition facts
Nutritional value per 100ml
Energy

43 kcal / 178 kj

Protein

1,2 gr

Fat

3,0 gr

Saturated Fat

1,9 gr

Carbohydrates

2,4 gr

Natural Sugars

1,8 gr

Salt

0,4 gr

Food fibres

0,8 gr
Allergy information
contains celery
Vitamins & minerals
Shown as a percentage of the reference intake (RI).
RI of an average adult is 8400 kJ / 2000 kcal per day.

Potassium

970 mg

Vitamin A

295 μg

Vitamin B1

0.22 mg

Vitamin B2

0.26 mg

Vitamin B3

1.5 mg

Vitamin B5

0.9 mg

Vitamin B6

0.34 mg

Folic acid

122 μg

Vitamin C

92 mg

Vitamin E

3.1 μg

Vitamin K

193 μg

Calcium

135 mg

Phosphorus

201 mg

Iron

3.1 mg

Iodine

44 μg

Copper

0.3 mg

Magnesium

89 mg

Manganese

0.7 mg

Zinc

1.6 mg

K
Potassium
> 49% of RDA
Good for blood pressure, supports normal muscle function and plays an important role in the functioning of the nerves.
A
Vitamin A
> 37% of RDA
Good for vision, and contributes to normal iron metabolism, helps care for the skin from the inside out and has a positive influence on the immune system.
B1
Vitamin B1
> 20% of RDA
Good for the heart, memory and concentration. Has a positive influence on the functioning of the nervous system.
B2
Vitamin B2
> 19% of RDA
Promotes energy metabolism, protects cells and helps reduce fatigue and tiredness.
B3
Vitamin B3
> 9% of RDA
Activates the natural energy in the body. Is important for healthy skin and good for memory. Helps reduce tiredness and fatigue.


B5
Vitamin B5
> 15% of RDA
Supports energy metabolism, helps to reduce fatigue and helps with tension.
B6
Vitamin B6
> 24% of RDA
Is important for the formation of red blood cells, promotes energy metabolism, contributes to the regulation of hormonal activity and helps reduce fatigue.
Fa
Folic acid
> 61% of RDA
Helps the body create and maintain new cells. Folic acid supports, among other things, the production of red and white blood cells.
C
Vitamin C
> 115% of RDA
Supports your immune system and is an antioxidant, which protects against free radicals. Contributes to the formation of collagen, which is important for healthy blood vessels and healthy skin. Contributes to a clear mind and the proper functioning of the nerves.
E
Vitamin E
> 26% of RDA
Is an antioxidant. Helps protect body cells against damage from pollution and sunlight, among other things.
K
Vitamin K
> 257% of RDA
Helps in normal blood clotting. Supports the absorption of minerals into the bone tissue and contributes to the maintenance and maintenance of strong bones.
Ca
Calcium
> 17% of RDA
Supports blood clotting. Helps to keep the skeleton and teeth strong and is good for the muscles. Supports the energy level.
P
Phosphorus
> 29% of RDA
Contributes to the normal functioning of cell membranes and the maintenance of strong bones. Promotes energy metabolism.
Fe
Iron
> 22% of RDA
Supports the normal formation of red blood cells and hemoglobin, contributes to the process of cell renewal, aids the immune system, has a beneficial effect on normal oxygen transport in the body and keeps the mind clear.
I
Iodine
> 29% of RDA
Contributes to normal thyroid hormone production and thyroid function.
Cu
Copper
> 30% of RDA
Supports iron transport in the body, is good for the nervous and immune systems and helps protect body cells.
Mg
Magnesium
> 24% of RDA
Helps maintain strong bones, contributes to a good electrolyte balance and is good for concentration.
Mn
Manganese
> 35% of RDA
Important for the normal formation of connective tissue in cartilage and bones, is good for the skeleton and works to protect against free radicals.
Zn
Zinc
> 16% of RDA
Is conducive to concentration, good for hair and nails and helps to keep the skin healthy.
Zucchini soup reviews
Groen en puur

Heerlijke groene courgettesoep. De smaken zijn mooi in balans en fijn dat het lekker dik is en niet zulke waterige soep wat ik gewend ben van andere partijen. Krijg echt mijn groente zo binnen

Gabi from alphen aan de rijn on 8 July 2021