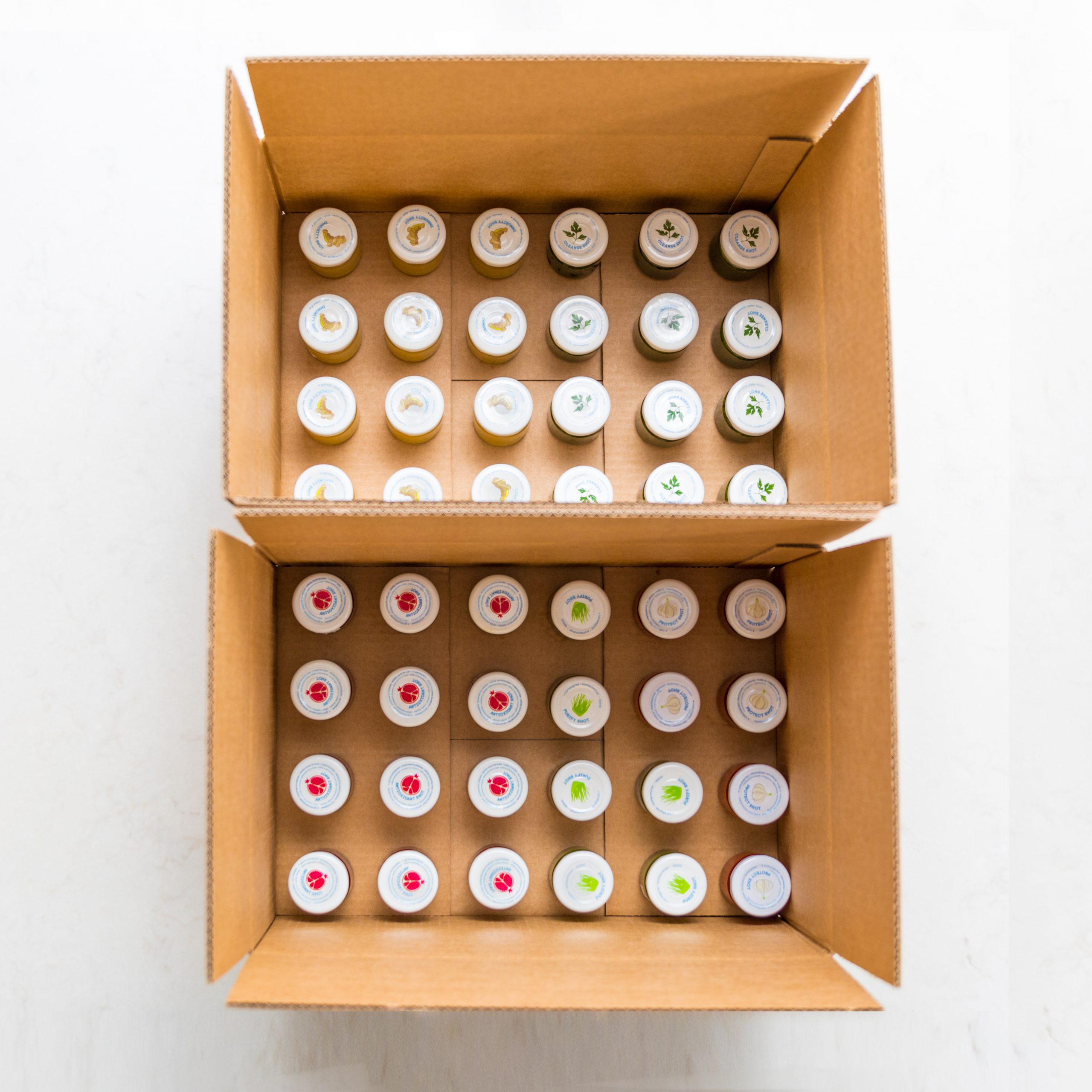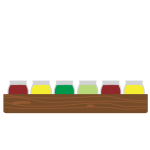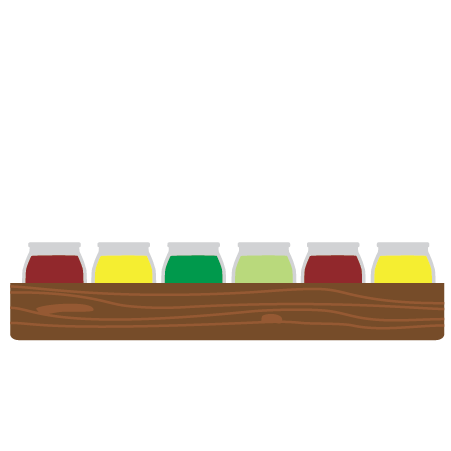 Shots box
Concentrated shots full of healthy nutrients*
Do you want to support your health in a natural and easy way? With this handy box full of super concentrated shots based on organic superfoods, that becomes a piece of cake. Each jar contains all the healthy nutrients from the healthiest vegetables, fruits, herbs and spices. This way you get a whole range of vitamins, minerals and antioxidants in just a few sips. Thanks in part to the high content of vitamin C, our shots help support your immune system and protect the body against oxidative damage*.
Box with 48 powerful superfood shots for your health
Superfoods are so named because they contain large amounts of healthy nutrients. By adding them to your daily menu, you get a lot of vitamins, minerals and antioxidants in a natural way. But buying all those superfoods and preparing them at home takes quite a bit of time, effort and money. Make it easy on yourself with this varied box with 5 types of shots in 48 glass jars. Just thaw and you're ready for your daily health boost!
The health benefits of our organic shots
Every jar from our surprising box full of concentrated shots is filled with the juice of the healthiest superfoods. Below is a brief overview of the different shots, their ingredients and health benefits.
Antioxidant shot (12x)
This sweet and sour shot has an extremely high natural antioxidant value. The vitamin C and vitamin E in this shot help protect your body cells against free radicals. It contains the juice of no less than 9 different types of wild berries, pomegranate, rosehip and various healthy spices such as vanilla and cinnamon.
Immunity shot (12x)
This spicy shot supports your immune system the best due to the high contents of vitamins A and C. For the Immunity shot we selected the best raw and organic ginger, lemongrass, orange, cinnamon, aloe vera, ginseng, dill and tarragon.
Purify shot (6x)
This green shot based on organic wheatgrass juice, cucumber and apple helps protect your body due to the generous amounts of vitamin E and zinc it contains. These antioxidants contribute to the scavenging of free radicals in your body. In addition, wheatgrass provides chlorophyll. Apple and cucumber are also packed with healthy nutrients. In addition, this shot contains nice amounts of vitamin B1, vitamin C and magnesium. As a result, it contributes to your ability to concentrate and a clear mind.
Protect shot (6x)
Our energizing Protect shot contains ingredients that support your health in a natural way. This potent shot contains hefty amounts of vitamin C (123% of the RI) and manganese (60% of the RI), two antioxidants that help protect your healthy body cells. The special combination of garlic, horseradish, red pepper, apple cider vinegar, manuka honey and elderberries forms a delicious healthy shot.
Cleanse shot (12x)
With this shot you get 9 natural ingredients together in one jar. The juice of cucumber, apple and lemon is enriched with herbs such as rosemary, parsley, coriander, oregano and sage for an extra powerful shot. This way you can support your health in an easy way. The large amount of vitamin K in this shot helps with the normal clotting of your blood and is good for your bones.
The advantages of the Shotjes Box from Sapje
Advantages: A box with shots is 5% cheaper than the total amount of the same shots if you order them separately.
Well stocked: With 48 shots you can go more than a month ahead.
Organic: This is 100% pure and organic superfood juice, without added sugars and preservatives.
Naturally healthy: The shots are pressed by hand with the slow juicer and frozen in the shock freezer for optimal preservation of the healthy nutrients.
Easy: Order the shot box online and decide where and when we deliver it. After that, all you have to do is defrost the shots for a fresh, healthy and tasty result.
"Our juices are an excellent addition as part of a varied, balanced diet and a healthy lifestyle."
Nutrition facts
Nutritional value per total shots box
Energy

3270 kcal

Protein

96 gr

Fat

26 gr

Saturated Fat

5 gr

Carbohydrates

648 gr

Natural Sugars

272 gr

Salt

1,8 gr

Food fibres

247 gr
Allergy information
contains carrot
Vitamins & minerals
Shown as a percentage of the reference intake (RI).
RI of an average adult is 8400 kJ / 2000 kcal per day.

Potassium

13086 mg

Vitamin A

4525 μg

Vitamin B1

5.89 mg

Vitamin B2

3.28 mg

Vitamin B3

31 mg

Vitamin B5

22.6 mg

Vitamin B6

6.7 mg

Folic acid

1068 μg

Vitamin C

2346 mg

Vitamin E

102 μg

Vitamin K

3920 μg

Calcium

1782 mg

Phosphorus

2081 mg

Iron

77 mg

Iodine

48 μg

Copper

7.4 mg

Magnesium

1080 mg

Manganese

34 mg

Zinc

53 mg

K
Potassium
> 654% of RDA
Good for blood pressure, supports normal muscle function and plays an important role in the functioning of the nerves.
A
Vitamin A
> 566% of RDA
Good for vision, and contributes to normal iron metabolism, helps care for the skin from the inside out and has a positive influence on the immune system.
B1
Vitamin B1
> 535% of RDA
Good for the heart, memory and concentration. Has a positive influence on the functioning of the nervous system.
B2
Vitamin B2
> 234% of RDA
Promotes energy metabolism, protects cells and helps reduce fatigue and tiredness.
B3
Vitamin B3
> 194% of RDA
Activates the natural energy in the body. Is important for healthy skin and good for memory. Helps reduce tiredness and fatigue.


B5
Vitamin B5
> 377% of RDA
Supports energy metabolism, helps to reduce fatigue and helps with tension.
B6
Vitamin B6
> 479% of RDA
Is important for the formation of red blood cells, promotes energy metabolism, contributes to the regulation of hormonal activity and helps reduce fatigue.
Fa
Folic acid
> 534% of RDA
Helps the body create and maintain new cells. Folic acid supports, among other things, the production of red and white blood cells.
C
Vitamin C
> 2933% of RDA
Supports your immune system and is an antioxidant, which protects against free radicals. Contributes to the formation of collagen, which is important for healthy blood vessels and healthy skin. Contributes to a clear mind and the proper functioning of the nerves.
E
Vitamin E
> 850% of RDA
Is an antioxidant. Helps protect body cells against damage from pollution and sunlight, among other things.
K
Vitamin K
> 5227% of RDA
Helps in normal blood clotting. Supports the absorption of minerals into the bone tissue and contributes to the maintenance and maintenance of strong bones.
Ca
Calcium
> 223% of RDA
Supports blood clotting. Helps to keep the skeleton and teeth strong and is good for the muscles. Supports the energy level.
P
Phosphorus
> 297% of RDA
Contributes to the normal functioning of cell membranes and the maintenance of strong bones. Promotes energy metabolism.
Fe
Iron
> 550% of RDA
Supports the normal formation of red blood cells and hemoglobin, contributes to the process of cell renewal, aids the immune system, has a beneficial effect on normal oxygen transport in the body and keeps the mind clear.
I
Iodine
> 32% of RDA
Contributes to normal thyroid hormone production and thyroid function.
Cu
Copper
> 740% of RDA
Supports iron transport in the body, is good for the nervous and immune systems and helps protect body cells.
Mg
Magnesium
> 288% of RDA
Helps maintain strong bones, contributes to a good electrolyte balance and is good for concentration.
Mn
Manganese
> 1700% of RDA
Important for the normal formation of connective tissue in cartilage and bones, is good for the skeleton and works to protect against free radicals.
Zn
Zinc
> 530% of RDA
Is conducive to concentration, good for hair and nails and helps to keep the skin healthy.
Shots box reviews