26 September 2023
Turmeric has a long history and many different applications. Especially in Asia, the orange roots of turmeric have been used for centuries as part of a healthy lifestyle. Keep reading and discover all the things you can do with turmeric!
What is turmeric?
Turmeric is made from the roots of the Curcuma longa plant, a member of the Zingiberaceae family, which also includes ginger. Turmeric root looks very similar to ginger root, known from our Ginger Shot, but is often slightly smaller than ginger and orange inside instead of yellow. Traditionally, turmeric root is first boiled or steamed before use. You also often come across turmeric in powder form, which is dried and ground. The taste of dried and ground turmeric is slightly bitter and yet sweet, with a warming effect. Thanks to the compound curcumin, turmeric powder is bright yellow; much more yellow than ground ginger.
Where does turmeric come from?
The natural origin of the Curcuma longa plant lies in the tropical regions of South Asia. More than 130 species of turmeric are known. Generally, this plant requires warm temperatures, between 20 and 30 degrees Celsius, and substantial amounts of rain. Turmeric plants can grow to about a meter tall. They have elongated leaves, but it is mainly the roots that are used for consumption and other applications. Turmeric is primarily associated with India, where this spice has been used for many centuries. Vedic texts almost 4000 years old already describe various applications of turmeric as an important spice in dishes. Turmeric was also used as part of religious rituals and as part of an Ayurvedic lifestyle. Later, the use of turmeric spread to the rest of the world. Nowadays, India is still the largest producer and consumer of turmeric. Almost all turmeric used worldwide originates from India.
What other names doe turmeric have?
The name 'kurkuma' comes from Sanskrit and is still used in many countries, including the Netherlands. However, we also use the name 'geelwortel' (yellow root), and in supermarkets, you can also find turmeric in packages with the names 'koenjit' and 'koenir', which are derived from the Indonesian names. If you search for 'turmeric', you can find more information about turmeric in English.
What is curcumin?
Turmeric contains various curcuminoids; colorants that make turmeric yellow. Turmeric powder generally consists of just over 3% curcumin.
How are turmeric and curcumin used?
Curcumin as a coloring agent
Curcumin is a very strong coloring agent. It is commonly used to color other food items such as butter and cheese, as well as desserts, cakes, and sauces. Turmeric is almost always present in curries and dishes with yellow rice. As a food additive, curcumin is identified by the E-number E100. Soap and other cosmetics can also be colored with curcumin. On a label, curcumin can be identified by the INCI code CI75300. This coloring agent is also used to dye fabrics, so be careful with your clothing when working with turmeric. The stains it leaves on fabric are difficult, if not impossible, to remove.
How do you turmeric in dishes?
Turmeric is a very versatile ingredient for the most delicious dishes. This warming spice shines, for example, in Asian dishes, such as this green curry masala with butternut squash, or this sparkling chutney with apple and mango. Also, try this delicious Moroccan harira! For lovers of nutritious and healthy soups, this spicy parsnip soup with turmeric is highly recommended. Golden milk or Turmeric Latte has become a popular drink among turmeric enthusiasts in recent years. You can make this comforting and healthy latte with warm (plant-based) milk and turmeric, ginger, and other warming spices. A good alternative to tea, coffee, or hot chocolate!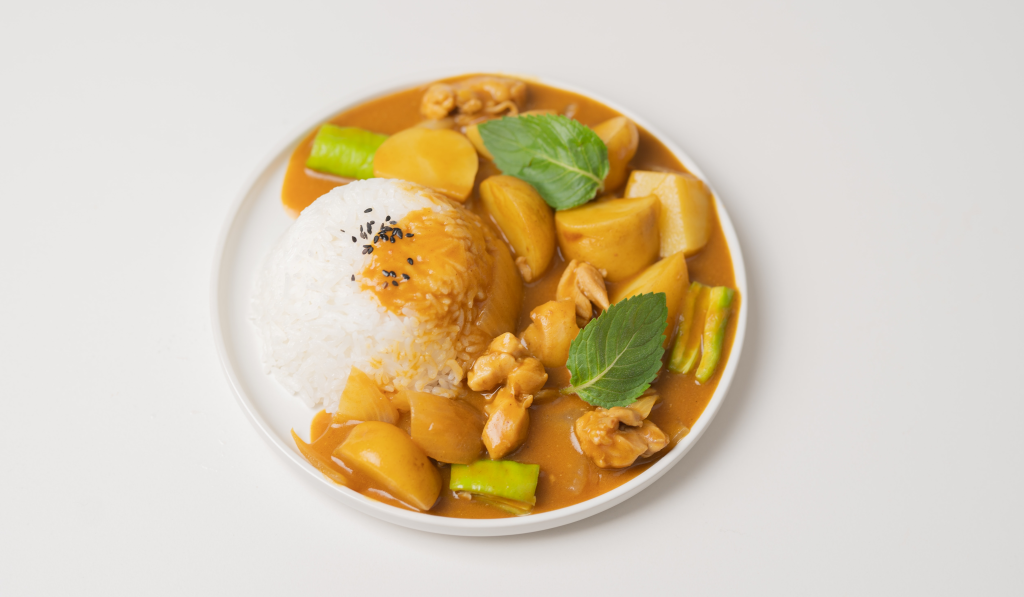 How much turmeric can you eat per day?
There is currently no recommended daily intake for turmeric. If used as a culinary spice, it is unlikely that you will consume too much turmeric, but do not overdo it. If using turmeric as a supplement, stick to the recommended dosage and consult with your doctor if you have any doubts or are taking medications or have health conditions. For children and pregnant women, the use of turmeric is not recommended as its safety for them has not been established with certainty. If you are considering using curcumin supplements, be aware of the guidelines set by the WHO (World Health Organization), which recommends a daily intake of up to 3mg of curcuminoids per kilogram of body weight.
Try a turmeric juice!
At Sapje, we love using turmeric too. It's the main ingredient in our Kick juice, which also contains black pepper and lemon. As the name suggests, this fresh juice gives a tasty kick and is also rich in vitamin C. Turmeric can also be found in our Seasons, Sunny, Power, Recover juices, and our Protect shot. We also use fresh turmeric in our Pumpkin Soup and Cauliflower Soup, as well as in our Breakfast Smoothie.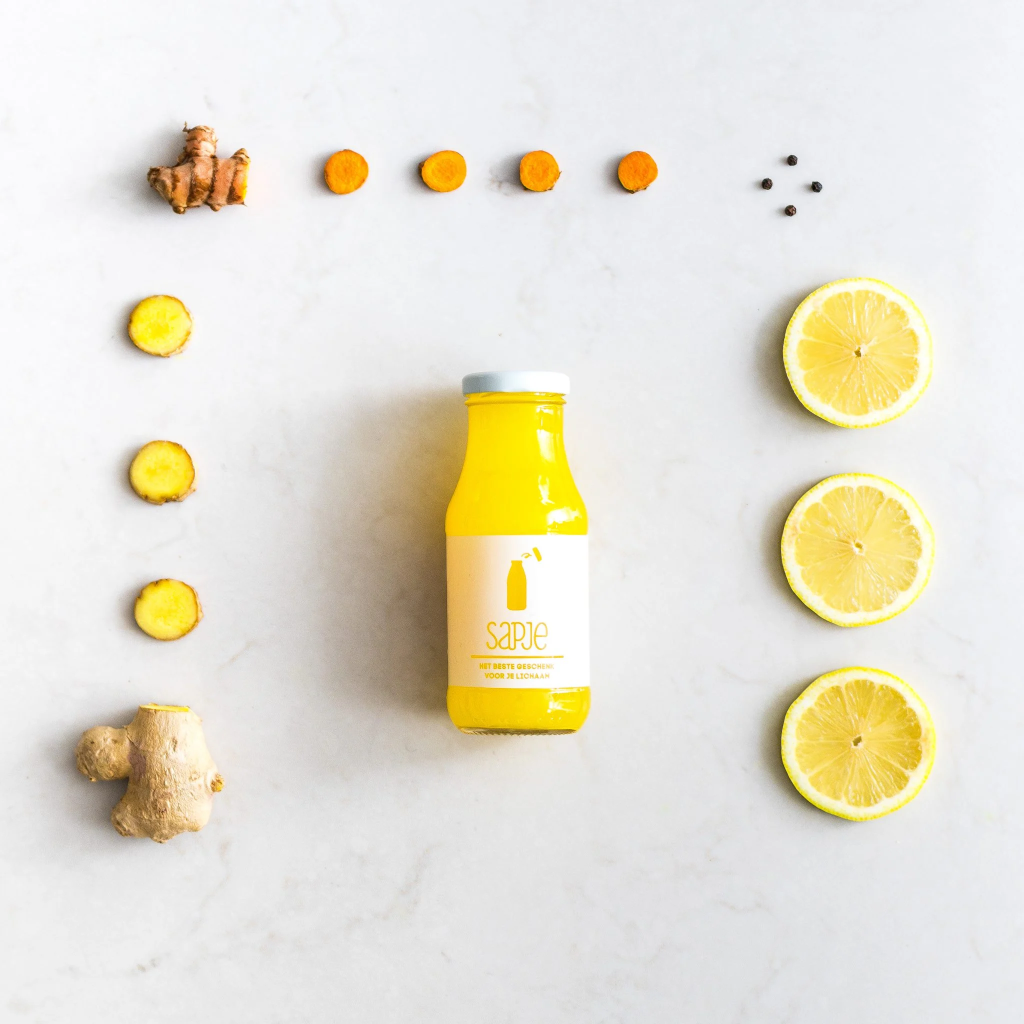 All of our juices, soups, detox programs, shots, and smoothies are made with the best organic ingredients and without any unnatural additives such as sugar and preservatives. By freezing them immediately after preparation in the shock freezer, the color, scent, flavor, and nutrients are preserved naturally. Order them online and experience it for yourself!
Sources:
1. National Library of Medicine, Herbal Medicine: Biomolecular and Clinical Aspects. 2nd edition.
2. National Library of Medicine, Multitargeting by turmeric, the golden spice: From kitchen to clinic.
3. National Library of Medicine, Biological activities of curcuminoids, other biomolecules from turmeric and their derivatives – A review.
4. BBC Good Food